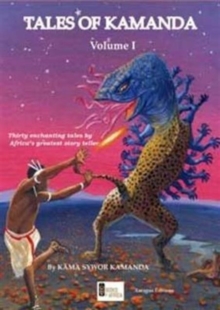 Tales of Kamanda
Paperback
Description
Tales of Kamanda Vol. 1 by Kama Sywor Kamanda; 41 enchanting tales by Africa's greatest story teller.Kama Sywor Kamanda has produced a dozen anthologies of poetry, several hundred stories, four novels and three plays.
The imagery in his stories comes from African traditions but mixes the fantastic and the real, conjuring up memorable pictures of sunlight, dark forests, beautiful princess and fearful monsters.
Born in the Congo, he published his first collection of stories in 1967 when he was 15.
He helped create the Union of Congolese Writers but fled Mobutu's Congo in 1977.
He was the founding president of the African Association of Writers of which Leopold Sedar Senghor was the honorary president.His works have been translated into many languages and he has earned many prizes, including the Black Africa Grand Prize for Literature, the Paul Verlaine Prize and the Theophile Gautier prize from the Academie francaise.
In 2005, the International Council for Francophone Studies conferred upon him the prestigious Maurice-Cagnon Certificate of Honour, for his unique contribution to world literature in French.BOOKS OF AFRICA is also publishing children's editions of two of his stories, "Amana, the child who was a god" and "Prince Muntu".
Published in collaboration with Editions DAGAN, Paris
Information
Format: Paperback
Pages: 205 pages, 6 b & w illustrations
Publisher: Books of Africa Ltd
Publication Date: 31/07/2016
Category: Traditional
ISBN: 9780993503603
Free Home Delivery
on all orders
Pick up orders
from local bookshops
Also by Kama Sywor Kamanda