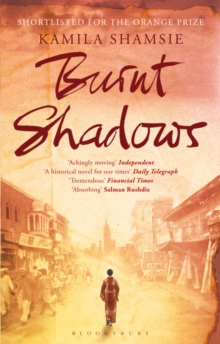 Description
In a prison cell in the US, a man stands trembling, naked, fearfully waiting to be shipped to Guantanamo Bay.
How did it come to this? he wonders. August 9th, 1945, Nagasaki. Hiroko Tanaka steps out onto her veranda, taking in the view of the terraced slopes leading up to the sky.
Wrapped in a kimono with three black cranes swooping across the back, she is twenty-one, in love with the man she is to marry, Konrad Weiss.
In a split second, the world turns white. In the next, it explodes with the sound of fire and the horror of realisation.
In the numbing aftermath of a bomb that obliterates everything she has known, all that remains are the bird-shaped burns on her back, an indelible reminder of the world she has lost.
In search of new beginnings, she travels to Delhi two years later.
There she walks into the lives of Konrad's half-sister, Elizabeth, her husband James Burton, and their employee Sajjad Ashraf, from whom she starts to learn Urdu.
As the years unravel, new homes replace those left behind and old wars are seamlessly usurped by new conflicts. But the shadows of history - personal, political - are cast over the entwined worlds of the Burtons, Ashrafs and the Tanakas as they are transported from Pakistan to New York, and in the novel's astonishing climax, to Afghanistan in the immediate wake of 9/11.
The ties that have bound them together over decades and generations are tested to the extreme, with unforeseeable consequences.
Sweeping in its scope and mesmerising in its evocation of time and place, "Burnt Shadows" is an epic narrative of disasters evaded and confronted, loyalties offered and repaid, and loves rewarded and betrayed.
Information
Format: Paperback
Pages: 384 pages
Publisher: Bloomsbury Publishing PLC
Publication Date: 01/09/2009
ISBN: 9781408800874
Other Formats
EPUB from £7.19
Paperback from £7.15
Free Home Delivery
on all orders
Pick up orders
from local bookshops
Reviews
Showing 1 - 4 of 4 reviews.
Review by dsc73277
16/06/2015
Stunning. Kamila Shamsie has crammed a novel of great scope, beauty and significance into less than four hundred pages.I'm surprised that several reviewers have suggested that the start was the least impressive part, whilst I liked the whole book it was the opening section, set in Nagasaki on the day the atom bomb was dropped, that I found most breathtaking. She manages to create something beautiful out of a horrific event. I particularly liked the idea of hiding notebooks whose cosmopolitan content would not have been approved of by the Japanese authorities by attaching them to a tree:"He remains certain that no one will ever think to enter the deserted garden to search for treachery amidst the leaves. The people who would willingly sift through every particle of dust in a house for signs of anti-state activity can always be deceived by a simple act of imagination."
Review by litaddictedbrit
16/06/2015
Not too many years ago, there was a child who cried at social injustice without understanding what she was crying at; then, there was an idealistic law student determined to become a human rights lawyer, unswervingly filling her head with international cases and conventions/statute/regulations and muddling through them all to find a way towards that ever-mocked 'world peace'. And yes, she is me...At some point I realised two things: one, it was unlikely I would ever make it in the ironically cut-throat world that is becoming an established human rights lawyer and; two, short of a windfall, I couldn't support myself through the hundreds of pro bono cases that would preceed the actually-getting-paid part (those who have their human rights violated obviously not usually being particularly wealthy...). So I still became a lawyer but I swerved off towards commercial (and I love it, so that isn't a sad ending!). One thing I will always remember from university, though, was a presentation but a British-American lawyer who represented British/American nationals who were being held in Guantanamo Bay and was one of the only legal personnel allowed in. His talk was fascinating in detail but the thing that struck me the most was the same way as that which struck me with Burnt Shadows. When an atomic bomb was dropped on Nagasaki, Japan, a huge number of people were killed. How do those that make the decisionson things like that rationalise it? What are the effects on those individuals that get caught up in political strife and war? The amount of people that were killed by that atomic bomb was huge (approximately 60-80,000) but compare it to the amount that were killed during World War II and, shockingly, it starts to look small. What I loved about Burnt Shadows, and what I loved about that British-American lawyer years ago, was the author's ability to look past the bigger picture and at the individuals whose lives are shaped by global events. Looking past the deaths of tens of thousands and focusing on "just" a couple is hard to do well, I think. It's too easy to miss the finer points of emotion in the grasping of massive tragedy - if my city was devastated in this way, would I stop to think about the effect on tens of thousands? Eventually yes, but right away? I think I'd be more likely to be caught up in my own grief about my own family/friends. It's selfish but it's real. Likewise Guantanamo Bay - looking past 9/11 and at the individual alleged terrorists is exceptionally difficult but Burnt Shadows looks at that issue, as did my revered lawyer. Can we look past the world-changing events and listen to an individual accused's story without skewing it with our own perceptions? I wouldn't dare ruin the book but this is indeed an epic story sweeping up these issues and presenting them through the plight of two families: the Burtons and the Ashraf-Tanakas. To communicate these harrowing themes, Shamsie uses prose that is so elegant it could be poetry. The story flows beautifully and the imagery for each country evokes a sense of time and atmosphere that I was constantly in awe of - I don't think I've ever read a book that so deftly switches between countries and era. The reader travels through Japan, India, Pakistan, Afghanistan and New York over the space of about 60-something years and each time the story "jumps", it re-establishes itself so quickly that you feel as though you've been with the characters the whole time. In some books, when we skip a period of say 30 years, it feels as though one story just cuts to another - I think it works so much better here because the characters are strong and their relationships so realistic that you pick up with them as you would a good friend you haven't seen in years but still love dearly.My personal favourite character is Hiroko - she survives the dropping of the second atomic bomb, partition in India and post-terrorist New York in the way I think most of us would like to imagine we would: yes, she has physical and emotional scars but she's resolute about survival; she experiences real emotions like rage and devastation but gradually picks herself back up and looks after those she loves. She's also a fantastic individualist and her integration into Pakistani culture is very moving in places. This is by no means an easy read but I respect Shamsie immensely for tackling the subject matter in such a humbling way. I went through everything with those characters and have spent the last couple of days mulling it over and remembering and appreciating something new each time I do. I could honestly go ramble on forever! I'd set up a book club just to force people to read this.Everyone I've spoken to even once in the last year, expect a copy for Christmas....Overall: I struggle to find the words to recommend this enough: it's heart-breaking; it's funny; it's political and historical; it's about love but most of all it's about the impact of those huge world-changing events on the "little person" and how you can survive so much more than you think if you just have the right attitude and something/one to hold on to. Read it, dwell on it and cry over it - you'll feel better when you have...
Review by ceruleandaze
16/06/2015
This beautifully written book of life, love and, most of all, tragedy, tells the stories of two families intertwined by fate and choice, from the bombing of Nagasaki to post-9/11 New York. Sometimes heart-wrenching, other times delving into emotions you'd rather not explore yet want to know, the author's delicate and graceful writing style really brings out the emotive power of events both large and small. Her words are like colors on a canvas describing scenes and feelings, making it so easy to lose yourself in the story. The book explores the complexities and subtleties of life, relationships, and history -- taking viewpoints of well-known recent and current events probably not normally taken, which also gives the storyline a believability that makes it so intriguing to read. I wanted the story to continue, to know how all the remaining characters fared, and the paths they would take. But not all is told either, and that makes the story even more powerful. Originally written on Feb 02, 2010 at 12:42PM
Review by bodachliath
27/01/2016
A quietly devastating exploration of the human costs of war. Ranging from Nagasaki in 1945 via pre-partition Delhi and Karachi through to New York and Afganistan in 2002, the story interweaves tales of conflict and moral choices and ambivalences with an intensely moving family story. Beautifully written and thought provoking - Shamsie is a talented story teller with plenty to say about the modern world.