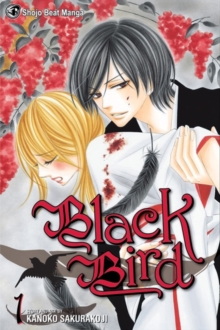 Black Bird, Vol. 1
Paperback
Description
There is a world of myth and magic that intersects ours, and only a special few can see it.
Misao Harada is one such person, and she wants nothing to do with magical realms.
She just wants to have a normal high school life and maybe get a boyfriend.
All that changes one day when Misao is attacked by a demon.
Her childhood friend Kyo suddenly returns to save her and tend to her cuts - with his tongue!
It turns out Misao is the bride of prophecy, whose blood gives power to the demon clan who claims her.
But most demons want to keep her power for themselves--by eating her!
Now Misao is just trying to stay alive...and decide if she likes it when Kyo licks her wounds.
Information
Format: Paperback
Pages: 194 pages
Publisher: Viz Media, Subs. of Shogakukan Inc
Publication Date: 04/08/2009
Category: Manga
ISBN: 9781421527642
Free Home Delivery
on all orders
Pick up orders
from local bookshops
Reviews
Showing 1 - 5 of 14 reviews.
Previous | Next
Review by Jenson_AKA_DL
16/06/2015
Misao Harada wants nothing more than to be a normal high school girl, but this is very difficult with all the demons that only she can see hanging around and tripping her up. Things start to get exponentially worse on her 16th birthday and she discovers the reason for the demon's attraction, they want her blood and are willing to eat her to get it. Misao's only protection is Kyo, a tengu demon she knew as a child who is determined to protect and possess her. The protection she can deal with but being possessed by a demon isn't quite what she was looking for in a relationship. This is a different story and is quite erotic in a rather innocent way (think "Twilight" with actual blood letting). You certainly can't help but feel bad for Misao who is obviously very confused and constantly getting attacked and slashed. I really like the different demons we get to see. After reading so many manga I am familiar with both the tengu and kitsune demon types and am really enjoying having found another story that features them. I additionally like the relationship between Kyo and Misao, even though I usually frown on storylines that feature student/teacher relations. I think in the context it was introduced here, with Kyo deliberately taking on the teaching job to be close and protect Misao, makes it a little more acceptable to me.The cover is art for this is both pretty and disturbing. The character artwork generally is very familiar to me and I'm going to have to see if I've read something by this manga-ka in the past. I do like it, there seems to be a good balance between character and background detail and the more risqué scenes are all non-detailed.This is an interesting, unique storyline with a premise I'm really enjoying and artwork that I find pleasing. I'm certainly looking forward to continuing on.
Review by salenawolfgoddess
16/06/2015
It is about a girl, Misao, destined to be the bride of a demon. The demon, Kyo, was her childhood friend who returned after 10 years away. He tells Misao about this destiny and she gets upset every time he tries to be intimate with her because of it. As it progresses, she questions her feelings for Kyo and his feelings for her, while he protects her from being attacked by other demons.I haven't read a graphic novel in awhile but I enjoyed this one, so much so I plan on reading the rest!Winner of the 54th Shogakukan Manga Award.
Review by GrazianoRonca
16/06/2015
'There is a world of myth and magic that intersects ours, and only a special few can see it.' (back cover)A silly sixteen-year-old girl, Misao Harada, could be a special person because she imagines demons around herself. But apart from a tempting statement on the back cover, nothing more of the book is tempting.Go back to the real vampires' stories.
Review by wyvernfriend
16/06/2015
Misao Harada can see into the magical realm, and now that she's 16 she hopes that she can find herself a boyfriend and enjoy life. Suddently she's being attacked by demons and her childhood friend Kyo returns to save her. Apparently she's a bride of Prophecy and a lot of demon clans want her. She wants love but survival is so important!It's light and left me wondering what was going to happen next to the characters. It didn't entrall but it was diverting.
Review by Char739
16/06/2015
I was introduced to Black Bird a few years ago, (When it was first published in the US) and while I was searching the Library for some new manga, this book's cover stuck out to me. I had never read a manga like this before, especially one with a semi-erotic cover. I decided to check it out, since I loved reading about demons and the introduction of the Tengu to me was quite interesting. Black Bird is a brilliant manga, following the journey of Misao, who has just turned sixteen. But turning sixteen isn't good in her case, because that means she is open season to all demons who want immortality and good fortune for the lucky demon's clan! Which is when we introduce Kyo, who used to live next to Misao when she was little, and when he had to leave, promised that he would come back someday soon for her. Unfortunately, Misao doesn't know what to think, does Kyo really and truely love her, or is he just using her like every other demon to bring good luck upon his clan?I'm not usually one who reads Shojo manga, but this story is for slightly older girls, say fifteen and up. I found it much more enthralling than a regular shojo manga about a girl who is hopelessly in love and will stop at nothing to win her crush's affections! Nothing like that. This book is for a more older, sophisticated crowd of young girls, who are looking for a little more romance and danger in their manga.So all in all, I love this manga series! I'm excited and curious to see what happens with Misao and Kyo, they are very fun characters!
Also in the Black Bird series | View all