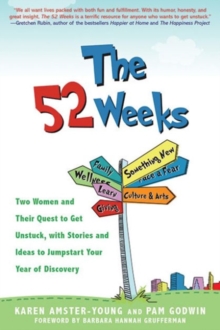 The 52 Weeks : Two Women and Their Quest to Get Unstuck, with Stories and Ideas to Jumpstart Your Year of Discovery
Paperback / softback
Description
Edging into forty-something, Karen and Pam found themselves in a state of stuck.
They had checked off many of their major life goals-career, husband, children, friends-but they'd lost momentum.
After griping over drinks one night, they came up with a plan to face their fears, rediscover their interests, try new things, and renew their relationships.
They challenged themselves to try one new thing every week for a year-from test-driving a Maserati to target practice at a shooting range to ballroom dance lessons-and to blog about their journeys.
They quickly realized it was harder than they ever imagined but came through it with a sense of clarity and purpose that has them itching to share the possibilities with the millions of middle-aged women out there who feel the same way about one or many areas of their lives. Getting "unstuck" doesn't have to mean running a marathon, traveling the world, or ending a relationship with your partner.
Through their experiences and a good dose of no-nonsense advice, Karen and Pam show readers how achieving small goals can give you a renewed sense of accomplishment and how you can keep growing, learning, and moving forward at any age.
Interspersed with personal stories is expert advice from doctors, psychiatrists, artists, and even a poker diva (who also happens to be a Fortune 500 executive).
Information
Format:Paperback / softback
Pages:296 pages
Publisher:Skyhorse Publishing
Publication Date:05/11/2013
Category:
ISBN:9781620877180
Also by Karen Amster-Young