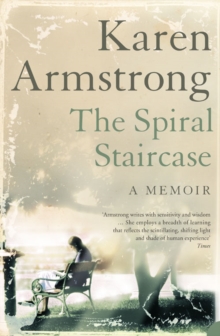 The Spiral Staircase
Paperback
Description
A raw, intensely personal memoir of spiritual exploration from one of the world's great commentators on religion.After seven years in a convent, which she left, dismayed by its restrictions, an experience recounted in `Through the Narrow Gate', Karen Armstrong struggled to establish herself in a new way of life, and became entrapped in a downward spiral, haunted by despair, anorexia and suicidal feelings.Despite her departure from the convent she remained within the Catholic Church until the God she believed in 'died on me', and she entered a `wild and Godless period of crazy parties and numerous lovers'.
Her attempts to reach happiness and carve out a career failed repeatedly, in spectacular fashion.
She began writing her bestseller `A History of God' in a spirit of scepticism, but through studying other religious traditions she found a very different kind of faith which drew from Christianity, Judaism and Islam and, eventually, spiritual and personal calm.In her own words, her `story is a graphic illustration - almost an allegory - of a widespread dilemma.
It is emblematic of a more general flight from institutional religion and a groping towards a form of faith that has not yet been fully articulated but which is nevertheless in the process of declaring itself'.
Her lifelong inability to pray and to conform to traditional structures of worship is shared by the many who are leaving the established churches but who desire intensely a spiritual aspect to their lives.`The Spiral Staircase' grapples with the issue of how we can be religious in the contemporary world, and the place and possibility of belief in the 21st-century.
Information
Format: Paperback
Pages: 368 pages
Publisher: HarperCollins Publishers
Publication Date: 03/01/2005
Category: Autobiography: general
ISBN: 9780007122295
Free Home Delivery
on all orders
Pick up orders
from local bookshops
Reviews
Showing 1 - 3 of 3 reviews.
Review by ablueidol
16/06/2015
Living proof that we find God in our failings and weakness. Karen with others appear on the edge of the mainstream because they want a Christianity that embraces and is open to all not a closed shop of the saved. I am always struck when I go into Waterstones or Border and see the pitiable 1/2 shelve of Christianity(usually world faiths so not even a 1/2 to itself and then 3 racks of mind body and spirit books. The Christian bookshop down the road full of books but empty of people.Karen is part of number of people that embrace a Christianity that is not afraid to change and accept the post industrial world and its knowledge. It can reject the old ideas of the 3 staged world(heaven-earth-hell) and other views and approaches based on the knowledge of the Roman periods.Read her struggles and how she manages to rethink her faith. And think you don't need to abandon your head to have a more reflective life
Review by Bibliophial
16/06/2015
As real an autobiography as you can find, thoroughly honest and self-searching. Vastly intelligent and unflinching too. This charts Armstrong's progress through a traumatic departure out of a convent, through Oxfoprd and a failed D Phil, and into the everyday world. You will know her, and yourself, better after reading this.
Review by EasyEd
16/06/2015
Very interesting read from someone who lived behind the scene as a nun for 7 years. Raises many questions about religion overall and it's personal impact on ones search for spiritual guidance. Tracing the intersection of the 3 big religions back to Abraham was insightful and educational. A good sequel to this book would be to explore the dynamics of radicalism in all 3 religions and how these minority groups negatively taint the perception today that the core of any one of these religions has run amok.