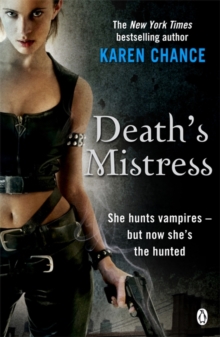 Death's Mistress
Paperback
Description
Dorina Basarab is a dhampir - half-human, half-vampire - and the only way she can stay sane is by unleashing her sometimes uncontrollable rage on demons and vampires that deserve killing.After the fortunate demise of her insane uncle Dracula, Dory is back home in Brooklyn, hoping that life will calm down for a while.
But then two visitors arrive: her friend Claire, asking for Dory's help in finding a magical Fey relic, and the gorgeous master vampire Louis-Cesare, desperate to find his former mistress, a vampire named Christine.Dory and Louis-Cesare soon discover their problems may be connected: the same master vampire Christine is bound to is also rumored to be in possession of the relic.
But they soon realize there's more at stake when Christine's master turns up dead.
Someone is killing vampire Senate members, and if Dory and Louis-Cesare can't stop the murderer, they may be next . . .
Information
Format: Paperback
Pages: 432 pages
Publisher: Penguin Books Ltd
Publication Date: 01/12/2009
Category: Fantasy
ISBN: 9780141039527
Free Home Delivery
on all orders
Pick up orders
from local bookshops
Reviews
Showing 1 - 3 of 3 reviews.
Review by lewispike
16/06/2015
The second of the Dorina Basarab books. It picks up a month after the earlier book in the series but not having read it in a while I'm not entirely sure how smoothly it picks up. I suspect fairly smoothly because the characters and basics of the story came back quickly enough but at the same time there wasn't really any need to go back and read the earlier book either.There is, as I think is quite normal for Karen Chance's books, quite a lot of inner dialog, nicely handled. There's quite a bit of 'fast action' - combat, chases, etc. The combat doesn't quite work - it's all to blurry and fast in words and it doesn't come across as superhuman so much as not properly described. That said, it's not a disaster, it is just the weakest point of the writing.More unlike her other stories there is a strong sexual element - Dory and Louis-Cesare are massively in lust and they tease each other with it on several occasions. Deftly handled and very believable. It looks like it might turn into romantic love, although hopefully that will be mixed up with the lust element too because it's so nicely handled although you almost certainly wouldn't want your children or young adults reading it if you're at all censorious.Hard to put down and fun.
Review by enzu-chan
16/06/2015
Dorina Is looking for something and finds it. But this is only 1 sentence so 422 pages of fillers are added to turn it into a book!!!Of course Karen Chance's style keeps it from becoming boring but there is no plot!
Review by Cynical_Ames
16/06/2015
Just finished DM. I may have gotten stuck in a long scene near the beginning but once I got past it I flew through it. It was brilliant. There were moments when I was laughing so hard I was crying. <br/><br/>Ray, the vampire everyone wants to get their hands on to either interrogate or kill him for a fae rune that belongs to Claire's baby son Aiden (the new heir to the Blasteri throne) that's meant to make it's owner invincible. Ray spent most of the book as a decapitated head in Dory's duffle bag which provided quite a few comic talking-head moments. Dory looks for the rune on Claire's behalf and runs into Louis-Cesare who needs the rune to trade for Christine his vampire mistress who was kidnapped from him a century ago. This is when things heat up as they try to negotiate and distract each other to get what they want. <br/><br/>I really felt for Radu seeing his $300k baby ripped apart before his eyes. Ouch. Dory as a mother was hilarious, poor Stinky! I think Stinky and Aiden are going to become great friends. There were also some incredibly touching moments between Mircea and Dory, and Louis-Cesare and Dory. I like Mircea even more now that we see Dory's mother through his eyes. Louis-Cesare and Dory's antagonistic relationship reached new heights of teasing torture and trickery but the ending was wonderful. <br/><br/>I didn't see who the murderer was coming. It was a complete surprise but I enjoyed a very old high level master begging Dory, the lowly dhampir pariah, to help keep himself alive - I hope he repays her well for doing so, she could have easily walked away and let him die. <br/><br/>Dory overhears Cassie being mentioned as Pythia and that she's under Mircea's influence so at least Dory knows who she is now even if they haven't met yet. I am definitely liking this series more than the Cassie Palmer one. Dory is a hard ass merc who tries to keep herself hard in order to make it easier for her to kill but people are creeping into her heart - Stinky, Claire, Louis-Cesare, Radu and now possibly Mircea. <br/><br/>My only complaint is that this was so action-packed that Dory barely had a chance to breathe before the next problem appeared. We don't get to see much of her friendship with Claire or any substance other than sexual tension between Louis-Cesare and Dory. Her relationship with Mircea is the only one that's made unexpected and substantial progress. I hope we get to see more in the following book.<br/><br/>People you need to hurry up and read this book you won't regret it.