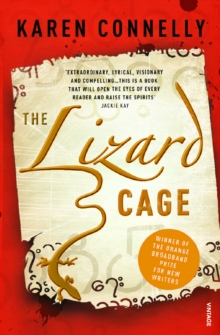 The Lizard Cage
Paperback
Description
Teza once electrified the people of Burma with his protest songs against the dictatorship.
Arrested by the Burmese secret police in the days of mass protest, he is seven years into a twenty-year sentence in solitary confinement, cut off from his family and contact with other prisoners.
Enduring the harsh conditions with resourcefulness, Buddhist patience and humour, he searches for news and human connection in every being and object that is grudgingly allowed into his cell. Despite his isolation, Teza has a profound influence on the world of the cage.
He inspires the conscience-ridden senior jailer to radical change.
His very existence challenges the brutal authority of Handsome, the junior jailer.
Even though his server, the criminal Sein Yun, sees compromising the singer as a ticket out of jail, Teza befriends him, risking falling into the trap of forbidden conversation, food and the most dangerous contraband of all, paper and pen. Lastly there's Little Brother, an orphan child growing up inside the walls.
Teza and the boy are prisoners of different orders, but their extraordinary friendship frees both of them in utterly surprising ways.
Overturning our expectations, Karen Connelly presents us with a mystifying world that celebrates the human spirit, and spirit itself, in the midst of injustice and violence.
Information
Format: Paperback
Pages: 448 pages
Publisher: Vintage Publishing
Publication Date: 01/03/2008
ISBN: 9780099502470
Free Home Delivery
on all orders
Pick up orders
from local bookshops
Reviews
Showing 1 - 2 of 2 reviews.
Review by brenzi
16/06/2015
In [The Lizard Cage], Karen Connelly tells the story of political prisoner Teza, held in solitary confinement in a Burmese prison, after being sentenced to twenty years. It's a miserable existence, where he is denied basic life sustaining requisites. Even while utilizing Buddhist meditation, the physical and mental abuse is almost more than he can bear and then he suffers a particularly brutal beating that leaves him with a shattered jaw that completely alters the look of his face making it nearly impossible to eat or talk. At this time a young boy enters the picture and he, Teza and a sympathetic jailer work together against the corrupt prison officials to overcome injustice.Connelly is superb at weaving together the stories of the young boy and Teza while exposing the corruptness of the Burmese government because in the background of Teza's story is the story of the actual political prisoner, Aung San Suu Kyi, held under house arrest since 1991 following her landslide election victory, and the reader is often reminded through reference to her, that political injustice still prevails in Burma. Teza has actually met her and worked for her and has figured out her importance:"Part of her power, Teza thinks, lies in the fact that she is both Burmese and foreign. She has come from the outside world and chosen to stay in this isolated country. She is a refined Burmese woman and a Buddhist—the latter is very important for the people. But what she carries from her life abroad is the future, which is already happening everywhere outside of Burma. She is the link between that future and Burma's past." (Page 47)Add to that the fact that Teza's brother has joined the political dissidents living at the Thai/ Burma border and you find yourself seamlessly floating between the real world and the fictional world the author has created.Glaringly apparent in the novel is the fact that the two most important characters are women, in a culture that doesn't respect them. In addition to Aung San Suu Kyi, who never actually appears and is only referred to, Teza's mother is also vitally important to the story. Her Buddhist teachings have made him what he is and, although she only appears briefly, her importance to the story cannot be underestimated. She supplies Teza with food while he is in prison and with medication when he is so horribly beaten. Her strength reveals itself in the manner she deals with the loss of her husband and both of her sons as political prisoners.Connelly has written a lyrical novel, filled with tender moments and horrifying episodes, and large doses of reality that is more shocking than any fiction could ever be. The plot drives relentlessly to its poignant conclusion and you're carried along with it. Awarded the 2007 Orange Prize for new writers, this book is highly recommended.
Review by dwate
16/06/2015
An amazing account of life in a Burmese prison camp, this novel focuses on Teza ('the Singer') a political prisoner, captured, tortured, beaten, starved and placed in solitary confinement because he is a writer and performer of popular songs; 'Free El Salvador' (the motto on his T-shirt), an orphan who survives in the camp by killing and selling rats; and Chit Naing, a jailer with a conscience. Unfortunately there are many in the camp with no scruples and Teza suffers terribly as a plot to incriminate him and extend his sentence goes wrong. The novel concludes on a hopeful note for the little orphan, and in some ways for Teza, but not so for Chit Naing. Often harrowing but always fascinating, this is a major novel, reminiscent in some ways of A Day In The Life Of Ivan Denisovich.