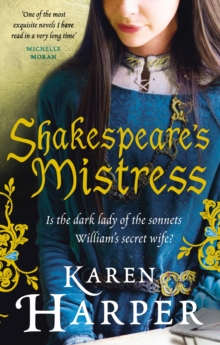 Shakespeare's Mistress : Historical Fiction
Paperback
Description
England, 1601. When Queen Elizabeth's men come looking for William Shakespeare - a rumoured Catholic in a time of Catholic-Protestant intrigue and insurrection - they first question a beautiful, dark-haired woman who seems to know the famous playwright very well. Too well. She is Anne Whateley, born in Temple Grafton, a small town just up the river from Shakespeare's hometown of Stratford-upon-Avon. And as church records show - were anyone to look for them - Anne Whateley was wed to William Shakespeare in a small country church just days before he married another woman, Anne Hathaway, who has lived as his wife for decades. In SHAKESPEARE'S MISTRESS, Anne Whateley - who may or may not be Will's true wife - tells her story. Stretching almost fifty years, from the rural villages of Warwickshire to the bustling city of London, with its teeming streets and lively theatres, it's a story of undying passion, for life, love, and literature.
Information
Format: Paperback
Pages: 448 pages
Publisher: Ebury Publishing
Publication Date: 06/08/2011
Category: Historical fiction
ISBN: 9780091940423
Free Home Delivery
on all orders
Pick up orders
from local bookshops
Reviews
Showing 1 - 4 of 4 reviews.
Review by the.ken.petersen
16/06/2015
I do not wish to be rude about this book., it is just not my cup of tea. I was hoping for a Hilary Mantel style of book: one that transported me into Shakespeare's World. Sadly, this is more Mills and Boon than historic novel. Karen Harper is, undoubtedly, well versed in the times of the Bard but, I found her language and the ideas that she attributed to her characters at odds with my (very limited) understanding of the age.If you are looking for some light reading based, loosely, upon the life of Shakespeare, but more of a cosy romantic novel, then this is for you but don't expect any insight.
Review by Blue_Elly
16/06/2015
Karen Harper's novel is based on the premise that before he married Anne Hathaway (in a shot-gun marriage), Will married another woman called Anne Whateley from the village of Temple Grafton near Stratford. The historical basis for this idea comes from the fact that two marriage licences appear to have been issued with William Shakespeare's name on, on consecutive days. The intriguing possibility that Shakespeare had two wives is worked here into a readable and entertaining story, which shows off the author's knowledge of the historical period and the works of Shakespeare with a light touch. With her striking Italian looks inherited from her long-dead mother, Anne Whateley is a strong, single-minded business woman, and the muse of the playwright. Through the telling of her story, Harper is able to explore the Elizabethan theatre, as well as something of the political intrigue of the period, and her array of characters both real and imagined are well-drawn. The writing style occasionally grates as being too modern, but this is a minor criticism and did not detract from my enjoyment of the story overall. If you enjoy historical fiction then this is definitely worth considering but it should be read in the spirit of a light-hearted romantic story and is probably not one for serious Shakespeare scholars.
Review by adpaton
16/06/2015
The so-called Dark lady of the Sonnets has inspired a host of books about the putative identity of the beauty who served as Shakespeare's poetic muse, of which Karen Harper's book is the latest, and the slightest. Written English of the late 16th Century was pretty informal and completely inconsistent regarding spelling: within the space of two days and in the same district, two marriage licenses were issued, one to William Shaxpere and Anne Whateley, and the other to William Shagpere and Anne Hathway [sic]. Was it the same William, and did he marry twice in quick succession?The story is based on the premise that the bard married his true love, the half Italian Anne Whateley, before being railroaded into a shotgun marriage with the pregnant and much older Anne Hathaway the following day: while Hathaway stayed in Stratford raising his children and generally nagging, Whateley moved to London where she ran a business and was a keen theatre-goer. When Shakespeare eventually joins her in London they resume their affair, he becomes a successful playwright and she continues to inspire and promote him though all the ups and downs of his apparently tumultuous life. All of which is okay, as far as it goes. But why she portrays Shakespeare as a recusant hostile to the Tudor monarchy and insanely jealous to boot is not clear; and while one does not want the novel written in actual Elizabethan English, modern slang and grammatical sloppiness is unacceptably jarring. If you enjoy a soppy romance which is easy to read and features lots of well-known historical names, this should be right up your ally, but if you like your history authentic, your language pure and your characters plausible, don't bother.
Review by AnneBrooke
16/06/2015
A good idea, but an amateur execution with flat characters and a good sprinkling of unintentional humour. Not recommended.