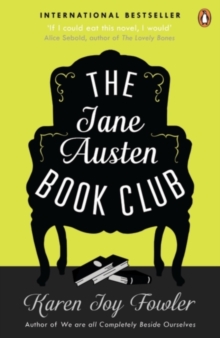 The Jane Austen Book Club
Paperback
Description
A moving, wise and delightfully modern comedy of manners from the bestselling, Man Booker shortlisted author Karen Joy Fowler.Six people - five women and a man - meet once a month in California's Central Valley to discuss Jane Austen's novels.
They are ordinary people, neither happy nor unhappy, but each of them is wounded in different ways, they are all mixed up about their lives and relationships.
Over the six months they meet, marriages are tested, affairs begin, unsuitable arrangements become suitable - under the guiding eye of Jane Austen a couple of them even fall in love...'If I could eat this novel, I would' Alice Sebold, author of The Lovely Bones'A thoroughly delightful comedy of contemporary manners' Entertainment Weekly'We defy you not to fall head over heels for this lovely novel' Mail On Sunday
Information
Format: Paperback
Pages: 304 pages
Publisher: Penguin Books Ltd
Publication Date: 27/01/2005
ISBN: 9780141020266
Free Home Delivery
on all orders
Pick up orders
from local bookshops
Reviews
Showing 1 - 5 of 9 reviews.
Previous | Next
Review by Eric_the_Hamster
16/06/2015
An enjoyable book, with a simple but interesting storyline revolving around a small reading group, with their personal stories tied in with the Austen novels they read over the space of a year. Recommended.
Review by mefnord
16/06/2015
5 women from their late twenties to their early sixties and one man somewhat in between, ages wise (either too old or too young for any of them), form the Jane Austen Book Club. Each Chapter is dedicated to one of Austen's books and focuses on one of the characters. In the end everyone has settles down to everyone's satisfaction - OMG just like in the Austen books! So clever.I was disappointed in this book. I heard so many good things and the little critique quotes on the book made me anticipate a funny and wise read.The first thing that threw me was the weird use of a collective "we" as the narrator's voice. Either all of the women speak in unison the whole time (Grigg, as the male, wasn't included in the "we" IMO) or there is in fact a seventh memeber of the bookclub. This device so didn't work for me!To me the characters stayed flat throughout, little anecdotes of their younger selfs didn't help to establish a feeling for them today - there's a lot of telling instead of showing going on. I always felt like being led to the point where I would be able to understand the reasons for their reactions and decision in events to come - but when those events finally came around - a Magic-8-Ball made all the decisions for the characters. No kidding. *seethes*Weird shifts of POV made it hard to read at times, again especially in regard to the male character. His chapter mainly consists of Jocelyn's POV and what was up with that? Why include a male if his only reason to be there is to bring in the unworthy science fiction geek factor? Oh, and to be part of the "Emma"-Jocelyn comparison? And to hammer down the point that men won't function w/o women in their lives?(which is why Grigg needs one of his sisters to make everything right for him.)Every other male is perfect in his own faulty husband-y way, by the way. Even the sinner is forgiven.In the end I also felt like there were many plot ends still floating about: like why the hell didn't Allegra, the open lesbian who tells everyone about her sexuality, tell Grigg about it? There is much ado about that in the novel, (so that I believed she was interested in Grigg) but this was obviously only a lead on as the question is never answered.Fan that I am: Buffy the Vampire Slayer referencing, yay!So, on the whole, a light read, and good if one (me!) doesn't start to think too hard about what is being said. Or doesn't over analyze everything, I guess.
Review by coolcat
16/06/2015
Every word is a pure delight. I was sad when I came to the last page because such greatness is hard to come by.
Review by celticstar
16/06/2015
I'd heard a lot about this book and then found it quite difficult to get into. I persevered and it did get better and I finished the second half quite quickly.
Review by elliepotten
16/06/2015
'The Jane Austen Book Club' is one of those novels that might be dismissed as 'chick lit' but actually turns out to be a sharp, witty, intelligent and well-written book that, whilst certainly a light read, is also one to be deliciously savoured.The premise is simple but original. A group of friends start a book club. Not just any book club, but, in light of their collective issues with modern life, an 'All-Jane-Austen-All-The-Time' book club. Six people, six books, with each of the group hosting the meeting for their chosen novel. The chapters are structured around these meetings, so the first chapter is 'MARCH, CHAPTER 1... in which we gather at Jocelyn's to discuss Emma', and so on. In each chapter the host's history and personality is more fully explored, the month's novel is discussed (but never so much that it bores or alienates the reader), and at the same time the other characters are lightly threaded through the background to keep the overall plot evolving.As well as showcasing Austen's novels, this is very much a character piece. Each of the six book club members are entirely individual and it makes for much more interesting and amusing reading. Bernadette is a serial wife, rather eccentric and flamboyant, with a liking for yoga and Pride and Prejudice. Loyal Sylvia works at the library and has just had her life shattered by her husband Daniel's confession that he is leaving her for another woman. Her beautiful daughter Allegra is constantly doing daring things - not always without paying the price - and is getting over a devastating betrayal by her ex-girlfriend Corinne. Jocelyn is a dominant terminal singleton, afraid of being hurt and making up for it by matchmaking everyone else. Prudie is a rather artificial, self-conscious young French teacher who doesn't quite know how to interact with other people without coming across all wrong. And Grigg, poor Grigg, a sci-fi fan and Austen virgin brought into the group by Jocelyn as a distraction for Sylvia, entirely out of his depth and trying not to make an idiot of himself. The novel is narrated by a kind of all-seeing other, one who describes each character in the third person but frequently mentions 'us' and 'we'; part of the fun of the reading is trying to work out which of the six, if any, might be telling the story.Thus characters are deepened, love blossoms and dies and blooms again, and the story goes on. Of course it ends with optimism, hope and a well-timed bit of Austen wisdom. To my surprise, at the end of the book Fowler has also added some little extras which add to the reading experience - some contemporary and modern literary criticism of Austen and her novels, a brief summary of each of the books (handy for those not familiar with all of the works, or those who might want a quick refresher on characters and plots), and at the VERY end, a funny set of 'Questions for Discussion' on Austen AND Fowler presented by each of the six book club members. Clearly a liking for Jane Austen helps when reading this novel, but ultimately there is nothing in here that should put off a less knowledgeable reader, particularly given the handy summaries at the back (which I wish I'd noticed earlier, I must admit). It is a scrumptious book - funny, romantic, inspiring and positive - and definitely one I'll be keeping to read again.I'd also highly recommend the recent movie of the book (starring Maria Bello, Maggie Grace and Hugh Dancy), which is surprisingly faithful to the book in spite of its challenging structure, and just as sparkling!