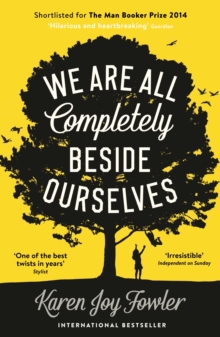 We Are All Completely Beside Ourselves : Shortlisted for the Man Booker Prize 2014
Paperback
Description
Shortlisted for the Man Booker Prize 2014The Million Copy Best-SellerRosemary's young, just at college, and she's decided not to tell anyone a thing about her family.
So we're not going to tell you too much either: you'll have to find out for yourselves, round about page 77, what it is that makes her unhappy family unlike any other. Rosemary is now an only child, but she used to have a sister the same age as her, and an older brother.
Both are now gone - vanished from her life. There's something unique about Rosemary's sister, Fern. And it was this decision, made by her parents, to give Rosemary a sister like no other, that began all of Rosemary's trouble.
So now she's telling her story: full of hilarious asides and brilliantly spiky lines, it's a looping narrative that begins towards the end, and then goes back to the beginning.
Twice. It's funny, clever, intimate, honest, analytical and swirling with ideas that will come back to bite you.
We hope you enjoy it, and if, when you're telling a friend about it, you do decide to spill the beans about Fern - it's pretty hard to resist - don't worry.
One of the few studies Rosemary doesn't quote says that spoilers actually enhance reading.
Information
Format: Paperback
Pages: 336 pages
Publisher: Profile Books Ltd
Publication Date: 19/06/2014
ISBN: 9781846689666
Free Home Delivery
on all orders
Pick up orders
from local bookshops
Reviews
Showing 1 - 5 of 9 reviews.
Previous | Next
Review by AdonisGuilfoyle
16/06/2015
Fell for the hype over this one, I'm afraid. I enjoyed the Cooke family dynamics (dysfunction works for me), but the 'twist' - or rather, how much Rosemary kept angsting over Fern - didn't move me. Some great research, definitely - and some great new words (thank goodness for the built-in dictionary on Kindle) - only no real plot to speak of. The whole book is based on the 'big reveal' and the repercussions thereafter. Rosemary's narration is clever and funny, and I loved the Copeland-esque feel of the 'middle' of the story, set in 1990s California, but I failed to connect with the novel as a whole.
Review by alexrichman
16/06/2015
Slickly written but ultimately quite thin. The twist is well executed but causes the book to veer in a direction I would never have chosen to travel down myself.
Review by iansales
16/06/2015
We all got a nice warm glow when this, a novel by an actual genre writer, was shortlisted for the Booker this year… although to be fair, Fowler has never really been "genre" in any sort of categorical sense – indeed, 'What I Didn't See' (er, see above) apparently caused quite a ruckus on its original publication in the (now-defunct) Sci Fiction online magazine, as many felt it wasn't genre at all; and there are still arguments whether her first novel, Sarah Canary, is actually sf (clue: it's in the SF Masterwork series). We Are All Completely Beside Ourselves, however, is entirely mainstream and sits comfortably between the witty lit fic of The Jane Austen Book Club and the weightier genre fiction of much of Fowler's short fiction output. I know some people have had problems with this novel, although I thought it very good, and it made me want to read more by Fowler (even though I've read many of her stories and several of her novels already). The novel works very much because its voice works, and the achronological structure plays to the plot's strengths – but then Fowler is pretty much one of our most-skilled writers… and it's good that the lit fic world has now realised that.
Review by Bernadette877
16/06/2015
Everything about this novel is brilliantly off balance - the narrator, the narrative style, the sequence of events. The back cover blurb refers to a tale of sibling rivalry, which is true enough. Negotiating family conflict (or not) definitely drives the plot. But 'family' includes humanity's great ape cousins and more distant animal relatives. It's really a tale exploring what makes us human, what makes us animal. And empathy.
Review by Goldengrove
16/06/2015
This is a very accomplished book - Karen Joy Fowler is completely on top of her material, understands her characters, and leads her readers gently by the hand through a fascinatingly twisty story. Rosemary is ambivalent about her family and upbringing - we learn quickly that she both loves and resents her sister, what we learn by the end of the book is exactly why both these emotions are so strong and such an important part of her character and identity.This appears to be a family story - well, it is, just not as conventional a family as one might think at the start of the book. I did guess the twist, but not in a disappointing way, it rather added to my enjoyment that I'd worked it out. A thoroughly engrossing read.