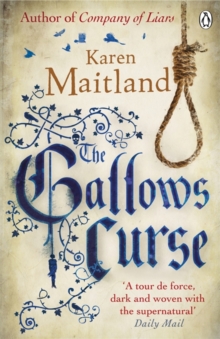 The Gallows Curse
Paperback
Description
The thirteenth-century is just begun and King John has fallen out with the Pope, leaving babies to lie unbaptized in their cradles and corpses in unconsecrated ground.
Across a fear-ravaged England, the people are dying in sin.In the village of Gastmere, this has shocking consequences for servant girl Elena.
Unwittingly drawn into a macabre scheme to absolve dying Lord Gerard of his crimes, death and betrayal haunt her dreams like a curse.And when Elena is threatened with hanging for a murder she did not commit, it is certain that unnatural conspiracy lies behind these dark deeds.
But where can she turn? For in every face lies wickedness and in every shadow lurks treachery . . .
Information
Format: Paperback
Pages: 592 pages
Publisher: Penguin Books Ltd
Publication Date: 01/03/2012
Category: Historical fiction
ISBN: 9780141047447
Free Home Delivery
on all orders
Pick up orders
from local bookshops
Reviews
Showing 1 - 5 of 5 reviews.
Review by devenish
16/06/2015
While this has much to commend it,I nevertheless found it both too long and also rather unsatisfying. Maitland's historical tales are always readable but this one dragged somewhat I fear. The two main characters were the annoying Elena and the almost as annoying Raffe - what a pair of losers -. As with many books,the bad guys had the best parts with Osborn and his brother Hugh,evil both,being by far the most interesting characters. Basically however the book wants shortening by at least 50 pages.
Review by passion4reading
16/06/2015
It is the year 1211 and England suffers under an Interdict imposed on King John by the Pope: the churches are closed, there are no confessions, babies go unbaptised, couples can't marry, there are no last rites and the dead are buried unshriven and without funeral services. When the lord of the manor of Gastmere dies, his steward takes the desperate step to appoint a sin eater, Elena, a local villein, but without her knowledge. Soon her dreams turn to violent nightmares. At the same time, a French spy appears to be living at the manor, and the steward has his suspicions as to who it might be.It was fascinating to read about this period in history, which I didn't know of before, even though the actual story is the weakest out of all of Karen Maitland's books I've read so far. I'm not entirely sure why that is, as some of the characters are among the strongest (Raffaele, the steward, and Ma Margot, the brothel madam). It's a real slow burner, and for great lengths of its 550+ pages there doesn't appear to be much happening, yet the novel is incredibly rich in atmosphere and did keep my interest right to the end as I wanted to learn of Elena's fate. As always, the author has added some much appreciated historical notes and a glossary after the story per se has finished.
Review by thiscatsabroad
16/06/2015
I wanted to like this *so* much, but I found it slow and, for the most part, unable to maintain my interest. The plot had potential but seemed to get bogged down in a main character I didn´t care much about & twists that felt contrived. Too bad, as Maitland´s Conspiracy of Liars was so brilliant. In fact, what´s missing from this book is the wit & intelligence from C.o.L. (and to a lesser degree the Owl Killers). This read like a Philippa Gregory novel on Quaaludes.
Review by diniak
16/06/2015
Far to be gripping as Company of Liar, this book walks slowly till the end being quite enjoyably but lacking of the mistery and originality that is expected from this kind of book
Review by LibraryCin
27/01/2016
It is the early 13th century and Eleanor of Aquitaine's son, John, is on the throne of England. Elena is young and unmarried when she becomes pregnant. While pregnant, Elena dreams of murdering her baby. ****POSSIBLE SPOILERS****After the baby is born, when she is accused of actually murdering him, she flees with the help of Raffaele.****END SPOILERS****Unfortunately, from there, things go from bad to worse for Elena. Then even worse, still...I listened to the audio, and although I thought the narrator was very good with various accents and voices, there were just too many times where my interest waned. I missed more than I would have liked to. Overall, though, I'll still rate it ok. Always hard to tell ahead of time, but I might have enjoyed it more if I'd read it instead of listened.