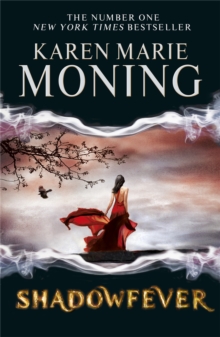 Description
Recommended by Charlaine Harris, author of the series that inspired HBO's hit series TRUE BLOOD, this new #1 Bestselling series will take readers by storm!In an epic battle between humans and Fae, the hunter becomes the hunted when the Sinsar Dubh turns on Mac and begins mowing a deadly path through those she loves.
Who can she turn to? Who can she trust? Who is the woman haunting her dreams? More important, who is Mac herself and what is the destiny she glimpses in the black and crimson designs of an ancient tarot card?
From the luxury of the Lord Master's penthouse to the sordid depths of an Unseelie nightclub, from the erotic bed of her lover to the terrifying bed of the Unseelie King, Mac's journey will force her to face the truth of her exile, and to make a choice that will either save the world ... or destroy it.
Information
Format: Paperback
Pages: 688 pages
Publisher: Orion Publishing Co
Publication Date: 01/01/2012
Category: Fantasy
ISBN: 9780575108585
Other Formats
Paperback from £6.39
EPUB from £4.99
Free Home Delivery
on all orders
Pick up orders
from local bookshops
Reviews
Showing 1 - 2 of 2 reviews.
Review by Lauren2013
16/06/2015
Shadowfever
3 Stars

Shadowfever is a huge disappointment. The world building and secondary characters are intriguing and make you want to continue, as does Phil Gigante's narration, which is completely captivating. Nevertheless, Mac's incessant drivel and the endless repetition of scene after scene from earlier installments ruin it all.

The first 1/4 of the book drags on and on with no end in sight. I found myself begging Moning to "GET ON WITH IT ALREADY" and was on the verge of calling it quits when Barrons finally put in an appearance and the plot actually began to move forward albeit slowly.

In general, the storyline is good with some compelling twists and turns. However, the slow pacing and constant diversions with Mac's never ending rumination detract from the tension and suspense, and by the time the surprising revelation finally arrives, you've lost interest and couldn't care less.

Mac seriously gets on my nerves. Her woe is me attitude and sexual attraction to every male in the series are tiresome, and I cannot, for the life of me, understand what the hell they all see in her. If she weren't the heroine, I would agree with Ryordan that she needs to be killed.

In sum, if the book focused on Barrons as the main character, the plot was tightened up and the page count reduced by 200 pages or so, then Shadowfever would rate 5 stars. However, even Mac and Barrons' silent conversations and their intense sexual chemistry cannot compensate for the inherent shortcomings of the disjointed writing and poor pacing.

I might continue with the spin-off series as Dani is an endearing character but I will probably wait for more books to be published before getting into it as Moning has a nasty reputation for cliffhangers.
Review by bonniemarjorie
16/06/2015
Wow. <u>Incredible</u>. And highly recommended. I cannot believe I went so long without enjoying this series! Once I started, I could not stop. I read all 5 books in a week. <br/><br/><p>Considering that this was a pretty long series and that so many questions were raised in all five books I was extremely pleased to have not only had all of them answered (except for one), but answered in a way that wasn't corny or predictable. That was one major thing; this series was anything but predictable. As soon as you had an idea of what the hell was going on you got thrown for a loop and were given a completely different answer to the mountain of questions. Reading all of them at once was a bit overwhelming at times because of the mystery to everything going on; got a little hard to keep up sometimes. I loved that it wasn't foreseeable or expected... I loved that I thought I had it all figured out but wasn't even close. I absolutely loved it.<p><br/><br/><spoiler>The one small unanswered question or.. situation that I would've liked seen resolved: Dani. We find out Alina's killer and 'What?! It was WHO?!' Completely out of left field. Then we find out (and feel completely guilty for immediately hating Dani) that she was forced to do it by Rowena. We don't know what happened to her, they never duked it out, nothing. Considering she was such a huge part of the story I didn't feel she got the ending she deserved. But then again, maybe it's not the ending. :)</spoiler><br/><br/><p>Now that I've finished the series, I really want to go back and be able to read them again to be able to understand what's going on when it's actually happening. :) Definitely taking up permanent residence on my favorite books of all time.<p><br/>