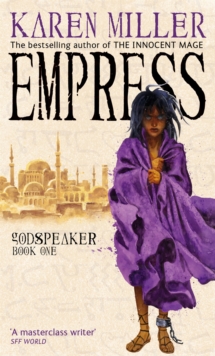 Description
When a scrawny, unwanted child - so lowly that she does not even have a name - is sold into slavery, a chain of events is set in motion that will have a profound impact on all the civilised world. Naming herself 'Hekat' (after a slaver's observation that she is quite the hellcat), the girl is taken in chains to Mijak's largest city, but makes a bargain with a ruthless god and escapes her captors.
After she saves the life of a warlord, he takes her in and teaches her ways that an orphan might use to prosper in an uncaring world. When the warlord's family dies, the way becomes clear for Hekat to carve a dynasty out of infidelity and betrayal...
Information
Format: Paperback
Pages: 688 pages, map
Publisher: Little, Brown Book Group
Publication Date: 03/04/2008
Category: Fantasy
ISBN: 9781841496771
Other Formats
Paperback from £7.85
EPUB from £6.99
Free Home Delivery
on all orders
Pick up orders
from local bookshops
Reviews
Showing 1 - 2 of 2 reviews.
Review by reading_fox
16/06/2015
Another wonderful character driven outing from Karen Miller.In a harsh land divided and ruled by seven warlords, and watched over by a nameless god, a child is born. She too is un-named, and her small village at the edge of a vast desert is poor, but even here rich Traders from the interior visit. Although not technically a slave she is sold to them, and earns the epithit hellcat which in her uneducated state she takes as her name - Hekat. As the Traders take her back to the capitol El-Raklion, she (and the readers) learn the ways of the world, and the power of the god who's idols are all creatures that bite - scorpions, snakes and centipedes. Blood sacrifices are a daily requirement, but true power infuses those who believe, and Hekat knows she is godtouched and precious in its eye.Although the POV wanders to and from other characters Hekat is always the focus of attention, using her skills and determination to better her station whenever she can. It is very much a character driven novel, little time is spent describing the world or how it has come to be. The plot is fairly straightforward, even predictable, but seldom unbelivable, led always by Karen's great skill at writing entertaining characters. The role of god in this novel is very intruging, many characters claim to hear it speaking in their mind or hearts, but their selfish actions lead doubt to it's powers, and yet much happens that can only be explained by a powerful and interventionist god. Are the other lead astray by demons, or is there more than one god? or is it just changable and or mad? Questions are not answered, but left for us to ponder as we eagerly await the rest of the series.A poor novel? I think not.Note: For those of a sensitive dispostion there is a lot of blood, and gratuitous use of the worfd fuck, but no graphic detail.Note2: contains an interview and bio of Karen Miller, plus an extract from someone else's newest novel!
Review by lewispike
16/06/2015
This is a book in which I don't like the main character, but I remain fascinated by her and her culture.On one level this is a fairly standard fantasy story - girl plucked from home into slavery, runs away and joins the army and eventually rises to become Empress. OK, so it's usually a boy rather than a girl, but the storyline isn't wildly out there.But the culture is. Everyone is scared of and strives to please "the God" who is abstract and usually distant. There are a lot of gifts given - money, items, and a lot of blood sacrifice up to and including human sacrifice. The amount of blood gets to be really quite OTT - there are various points where people swim in blood for example.And the god isn't totally remote - clerics (Godspeakers) have various powers to smite the ungodly and punish sinners.And the way it all fits together is fascinating and very nicely drawn out. Looking forward to book two.
Also in the Godspeaker series | View all