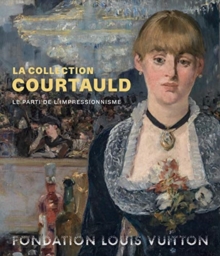 La Collection Courtauld. Le Parti De L'Impressionnisme
Hardback
Description
La Collection Courtauld. Un regard sur l'impressionnisme accompagne l'exposition majeure du printemps 2019 a la Fondation Louis Vuitton a Paris qui mettra en lumiere l'industriel et mecene anglais Samuel Courtauld (1876-1947), l'un des plus importants collectionneurs du XXe siecle.
Le catalogue et l'exposition presenteront son extraordinaire collection d'art impressionniste, qui n'a pas ete vu a Paris depuis plus de soixante ans. Courtauld constitua l'une des plus importantes collections d'art impressionniste au monde.
Au cours des annees 1920, il rassembla un ensemble exceptionnel de tableaux de tous les plus importants peintres impressionnistes, du chef d' uvre de jeunesse de Renoir, La Loge, a la derniere grande toile de Manet, l'emblematique Un Bar aux Folies-Bergere.
Sa collection comprenait egalement Nevermore, le grand nu tahitien de Gauguin, et l'un des plus celebres tableaux de Van Gogh, Autoportrait a l'oreille bandee, dont ce sera la premiere presentation a Paris depuis l'exposition organisee en 1955 au musee de l'Orangerie. Occasion unique de decouvrir quelques-unes des plus grandes peintures francaises de la fin du XIXe siecle et du tout debut du XXe, l'exposition illustrera le role pionnier de Samuel Courtauld et son influence dans la reconnaissance de l'impressionnisme au Royaume-Uni.
Tout particulierement, il joua un role fondamental dans la reconnaissance de Cezanne et rassembla le plus grand ensemble d' uvres du peintre en Angleterre, dont la Montagne Sainte-Victoire au grand pin et l'une des cinq versions des celebres Joueurs de cartes.
Apres une decennie consacree a collectionner, il cree le Courtauld Institute of Art and Gallery a Londres auquel il fait don, en 1932, de la majorite de ses chefs-d' uvre. Le catalogue, richement illustre, sera l'occasion de publier le resultat de nouvelles recherches sur la personnalite de Samuel Courtauld, son gout, la formation de sa collection et son mecenat des arts en Angleterre.
Il permettra une reevaluation de ses rapports avec les marchands et autres collectionneurs d'art impressionniste en Europe et aux Etats-Unis pendant l'Entre-Deux-Guerres.
L'exposition reunira une centaine de pieces - essentiellement des peintures mais aussi des uvres graphiques-ayant toutes appartenu a Samuel Courtauld et majoritairement conservees a la Courtauld Gallery mais aussi dans differentes collections publiques et privees internationales.
Chaque uvre aura une notice individuelle, accompagnee de details et d'illustrations comparatives, afin de donner une idee de la richesse de cette collection sans pareil et pourtant encore meconnue.
Free Home Delivery
on all orders
Pick up orders
from local bookshops