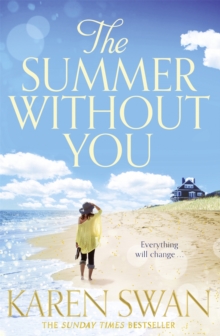 The Summer Without You
Paperback
Description
Rowena Tipton isn't looking for a new life, just a new adventure, something to while away the months as her long-term boyfriend presses pause on their relationship before they become engaged.
But when a chance encounter at a New York wedding leads to an audition for a coveted houseshare in The Hamptons - Manhattan's elite beach scene - suddenly a new life is exactly what she's got. Stretching before her is a summer with three eclectic housemates, long days on white sand ocean beaches and parties on gilded tennis courts.
But high rewards bring high stakes and Rowena soon finds herself caught in the crossfire of a vicious intimidation campaign.
Alone for the first time in her adult life, she has no-one to turn to but a stranger who is everything she doesn't want - but possibly everything she needs. The Summer Without You is a gorgeously escapist summer read from the Sunday Times bestselling author of Christmas at Tiffany's, Karen Swan.
Information
Format: Paperback
Pages: 576 pages
Publisher: Pan Macmillan
Publication Date: 22/05/2014
ISBN: 9781447255208
Free Home Delivery
on all orders
Pick up orders
from local bookshops
Reviews
Showing 1 - 1 of 1 reviews.
Review by Dream24
27/01/2016
I thought this was going to be a light, beach reading...boy was I wrong!<br/><br/>It had unexpected transatlantic adventures, a murder and most of all sun and beaches! Which we sorely need right now in Canada. I did enjoy the views of Hampton, no matter how literal it was :P hey when you have winter going forever, anything helps! This book definitely isn't your typical read about the beaches and Hamptons, it definitely had a twist that I never expected. <br/><br/>Ok, I was soooo annoyed with Ro for a good portion of the book because she kept clinging onto the idea of Matt and their future and was so whiny. Like hello Matt was the one who jetted half way across the world for 6 months, pull yourself together and focus on your awesome opportunity in the Hamptons! While the housemates were a little cliched, they were fairly interesting to get to know. And for the most part all the secondary characters were far more fascinating than Ro, at least for the bulk of the book...until Ro accidentally stumbles into the crossfires of an intimidation campaign. The thing between Ted and Ro... I was like really skeptical for a while, sorry but don't really feel the chemistry or get the long standing feud that Ro refused to let go. Like grow up Ro! <br/><br/>Basically almost every character we meet are hurt or damaged in some way, and this summer was the time for them to heal or move on. From Florence to Greg to Ro, after she decided to move on from letting the 'pause' bother her.<br/><br/>The story really picks up, nearly 2/3 of the way through the book, where an intimidation campaign ends up hurting Ro and Florence and eventually a murder rocks the entire community. The secondary characters are really interesting, especially Florence and Melody. They are very outstanding and almost dominating with their presence. I say we could have used them more in the book instead of Ro narrating the story. And the twist in the ending wow what a shocker! I totally did not see who the culprit was until it was revealed.<br/><br/>Overall, it was an Ok read. Not a quick read (definitely 200 pages too long), but it certainly passes the time and changes things up.