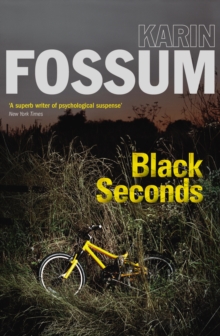 Description
Ida Joner gets on her brand-new bike and sets off to buy sweets.
A good-natured, happy girl, she is looking forward to her tenth birthday.
Thirty-five minutes after Ida should have come home, Helga Joner, her mother, starts to worry.
She phones the shop and various friends, but no one has seen her daughter.
As the family goes out looking for Ida, Helga's worst nightmare becomes reality, and they contact the police.
Hundreds of volunteers comb the neighbourhood, but there are no traces of Ida or her bike.
As the relatives reach breaking point and the media frenzy begins, Inspector Sejer is calm and reassuring.
But he finds the case puzzling. Usually missing children are found within forty-eight hours.
Ida Joner seems to have vanished without a trace.
Information
Format: Paperback
Pages: 256 pages
Publisher: Vintage Publishing
Publication Date: 05/07/2007
Category: Crime & mystery
ISBN: 9781846550188
Other Formats
Paperback from £7.65
EPUB from £3.99
Free Home Delivery
on all orders
Pick up orders
from local bookshops
Reviews
Showing 1 - 5 of 5 reviews.
Review by smik
16/06/2015
Helga Joner has often thought that her nine year old daughter Ida is too good to be true, too good to last. The disappearance of a child is every parent's worst nightmare. When Ida fails to arrive home from the shop, Helga feels she had been rehearsing the moment for years. First Helga and her sister Ruth scour the streets where they might find Ida, without success, and then they ring the police. Helga feels that somehow she has tempted fate, setting off an inevitable chain of events.When Inspector Konrad Sejer arrives at her house, Helga feels instinctively that he will find Ida. As time passes Sejer becomes concerned that no trace has been found of Ida or the bright yellow bicycle she rode to the shop. One hundred and fifty volunteers search for Ida without success. Eight days later there are still no clues, the search is to be scaled down, and a chance comment by Helga to Sejer gives them something new to work on.The careful reader will pick up the clues laid by Fossum early in the book, and probably feel at the book's end that he/she has always known where it was headed. But that won't diminish your enjoyment of this novel, The path is rich with scenes, characters, and explorations of how people think, and why they make the choices they do. Even so, nothing is certain, the characters are as large as life, and the scenarios so believable.This is the fifth title in Fossum's Inspector Sejer series. What a pity it has taken five years for an English translation of this masterpiece by the Norwegian "Queen of Crime" to become available. If you've never read anything by Karin Fossum, after BLACK SECONDS, you'll want to start the series at beginning, enjoying the connections between her novels, the plots she creates, and the development of the character of Konrad Sejer. Let's hope the next two novels in the series, already published in Norwegian, become more quickly available.Karin Fossum lives in Oslo, and, in her early fifties, a relatively young writer. Her successful Inspector Konrad Sejer series has been translated into over 16 languages. She won the Nordic Glass Key award in 1997 for DON'T LOOK BACK, and in 2005 CALLING OUT FOR YOU was shortlisted for a CWA Gold Dagger.
Review by miyurose
16/06/2015
This book is part of a detective series, but it's written like literary fiction. I thought there was some really fantastic imagery; for example, this passage, which alludes to the book's title:<i>Her heart was pounding hard and it hurt; she could hear the clock on the wall ticking mechanically. She had always thought of seconds as tiny metallic dots; now they turned into heavy black drops and she felt them fall one by one.</i>That stuck with me throughout the entire book, and we're brought back to it in the end as Ida's cousin Tomme hears a ticking in his head. The plot here consists of several strings that Inspector Sejer masterfully manages to pull together as one. We're treated to the points of view of several people — Sejer and his partner, Jacob Skarre; Ida's mother, Helga; Ida's aunt, Ruth; Tomme; and even Elsa and Emil Johannes Mork — and this gives us a more well-rounded view of the story. Unlike other crime series, the focus here is much more on the story than on one single character. I thoroughly enjoyed this, and look forward to exploring more of Fossum's work. This emerging genre of 'nordic noir' is quickly becoming one of my favorites.
Review by ten_floors_up
16/06/2015
Very accomplished, and probably my favourite out of the Karin Fossum books I've read so far. Should you believe that Scandinavian novels are variations on a theme of dark, brooding angst, then this may dispel that belief. The subject matter is indeed very serious but the treatment doesn't have the slightest hint of sensationalism, and has a very deft human touch. Recommended if your tastes veer towards spare evocative writing, "whydunnit" more than "whodunnit", and if you are a reader who doesn't prefer that every single loose end be tied up by the conclusion.
Review by ccookie
16/06/2015
Black Seconds] by Karin FossumFirst line:~The days went by so slowly~A young girl goes missing and seems to have vanished without a trace. Fossum takes us inside the head of her mother, her aunt and uncle, her cousins and the police who are investigating the disappearance.I won this book a number of years ago in a contest put on by the local newspaper and put it on a shelf. There it sat until this month when the 2014 Category Group chose Nordic Mysteries as the April MysteryCat and I figured this was the time to check it out. I am very glad I did.Although I figured out 'who done it', long before Inspector Sejer did, what worked for me was the depth of the characters and the way that the author crafted the story so that we, the reader do know before the police. We are privy to the 'thinking' of the characters so know much more than the inspector does who only has access to physical evidence and whatever information the people involved tell him. And, although I did figure out the perp it was through subtle information ie no one outright said, "I did it". And it took the rest of the book to understand the 'how' and the 'why' for the crime.I'll definitely check out more by this author.3.5 stars
Review by jan.fleming
16/06/2015
SYNOPSIS The plot in this book revolves around a child, Ida Joner, that disappears. she rides out on her yellow bike to buy some sweets. When she fails to return 35 minutes after she should have, her mother Helga starts to worry. She starts phoning around, but nobody has seen her. She scours the streets to no avail. So eventually she calls the police.<br/>The next day a local search is organized, but without result. Ida Joner and her yellow bicycle seem to have vanished into thin air. As the relatives reach breaking point and the media frenzy begins, Inspector Sejer is calm and reassuring. But he finds the case puzzling. Usually missing children are found within forty-eight hours. Ida Joner seems to have vanished without a trace. Eventually, all he has to go on is a comment has feels may be significant.<br/><br/>Black Seconds deals with an crime that could happen anywhere. Karin Fossum tells a story of unfortunate confluences of events, accidental occurrences, and opportunities. The path is rich with scenes, characters, and explorations of how people think, and why they make the choices they do. Even so, nothing is certain, the characters are as large as life, and the scenarios so believable. Black Seconds is a powerful, impressive, probing and intriguing novel, almost as good as Calling out for You. <br/><br/>Highly recommended! A simple story, a traditional police procedural but it is the characters and the effects that crime has on ordinary people that make this such a great read.<br/><br/>Though it sounds perverse it really is a gentle thriller.<br/><br/>Fossum writes such empathy and compassion for her cast of characters and that includes for both victim, perpetrator and detectives.<br/>