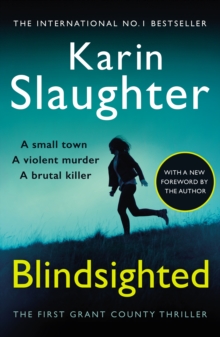 Blindsighted : (Grant County series 1)
Paperback
Description
The first Grant County novel, from the No. 1 Bestseller. The sleepy town of Heartsdale, Georgia, is jolted into panic when Sara Linton, paediatrician and medical examiner, finds Sibyl Adams dead in the local diner.
As well as being viciously raped, Sibyl has been cut: two deep knife wounds form a lethal cross over her stomach.
But it's only once Sara starts to perform the post-mortem that the full extent of the killer's brutality becomes clear.
Police chief Jeffrey Tolliver - Sara's ex-husband - is in charge of the investigation, and when a second victim is found, crucified, only a few days later, both Jeffrey and Sara have to face the fact that Sibyl's murder wasn't a one-off attack.
What they're dealing with is a seasoned sexual predator.
A violent serial killer...
Information
Format: Paperback
Pages: 416 pages
Publisher: Cornerstone
Publication Date: 01/06/2011
Category: Thriller / suspense
ISBN: 9780099553052
Other Formats
EPUB from £3.99
CD-Audio from £13.45
Free Home Delivery
on all orders
Pick up orders
from local bookshops
Reviews
Showing 1 - 1 of 1 reviews.
Review by elliepotten
16/06/2015
I accidentally read one of the later books in this series, <i>Skin Privilege</i>, back in April, and really enjoyed it, so I decided it was time to start at the beginning and catch up on the characters' back stories... This novel introduces Sara Linton, Grant County paediatrician and coroner, as well as the other two key players in the series: her ex-husband, Chief of Police Jeffrey Tolliver, and his feisty young detective Lena Adams. Where <i>Skin Privilege</i> focussed on drug running and authority corruption, <i>Blindsighted</i> highlights sexual violence, manipulation, and what happens to individuals, couples and families in the aftermath of rape.It opens with Sara finding Sibyl Adams, Lena's blind twin sister, raped, drugged and mutilated, in the bathroom of the local diner. Despite her best efforts, Sibyl dies in her arms. A familiar and well-loved face around town, her death throws the locals into turmoil, raising old demons, causing huge professional and personal conflict for Lena, and pushing Sara and Jeff together as they struggle to find a lead that might help them track down the killer. When the mysterious predator strikes again, drugging and crucifying a young student, the race is on to stop him before he can strike a third time. As a reader, as a woman - as a human being - this is brutal, thought-provoking and disturbing material, but once again I found that once I was wrapped up in Slaughter's claustrophobic small-town web, it was very hard to wrench myself free. Although Slaughter doesn't hold back with the grisly description and clinical details of the crimes in her novels, I think their strength really lies in her characters. They are not secondary to the violence being committed, nor are they shallow vessels for justice. Changing the third-person viewpoint every so often allows the reader an insight into each of the main characters and their motives, and the author explores their personal journeys and complicated relationships with such warmth that we can't help but invest in their wellbeing and success. Her female characters are particularly well-drawn; Sara is a strong woman who has overcome a tragic past to stand tall at Jeffrey's side through everything the novel throws at her, and Lena is certainly a tough cookie, but in a more headstrong and stubborn way. Jeffrey is almost the weakest of the three, in a sense, despite his role at the head of the investigation!Overall, despite the odd couple of slow moments (where Slaughter became a bit too character-centric and seemed to forget about all the urgent and exciting things she'd set into motion that I wanted to get back to!), this was another well-plotted, emotive and gripping read that I ended up liking more than <i>Skin Privilege</i>. Gruesome truths are revealed with expert timing for maximum visceral impact, the autopsy scenes are painstakingly authentic, the relationships between characters are sympathetic and very astutely observed, and I learned some fascinating details about belladonna (the killer's drug of choice) as well. If I can learn something interesting while I'm being entertained then so much the better! Recommended for crime/thriller fans with a strong(ish) stomach and a keen interest in the bizarre and bleak world that is the criminal mind...
Also in the Grant County series | View all