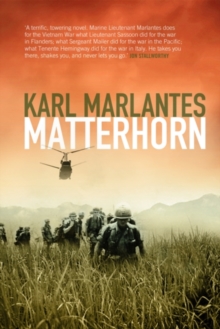 Description
Fire Support Base Matterhorn: a fortress carved out of the grey-green mountain jungle.
Cold monsoon clouds wreath its mile-high summit, concealing a battery of 105-mm howitzers surrounded by deep bunkers, carefully constructed fields of fire and the 180 marines of Bravo Company.
Just three kilometres from Laos and two from North Vietnam, there is no more isolated outpost of America's increasingly desperate war in Vietnam.
Second Lieutenant Waino Mellas, 21 years old and just a few days into his 13-month tour, has barely arrived at Matterhorn before Bravo Company is ordered to abandon their mountain and sent deep in-country in pursuit of a North Vietnamese Army unit of unknown size.
Beyond the relative safety of the perimeter wire, Mellas will face disease, starvation, leeches, tigers and an almost invisible enemy.
Beneath the endless jungle canopy, Bravo Company will confront competing ambitions, duplicitous officers and simmering racial tensions.
Behind them, always, Matterhorn. The impregnable mountain fortress they built and then abandoned, without a shot, to the North Vietnamese Army...
Information
Format: Hardback
Pages: 608 pages
Publisher: Atlantic Books
Publication Date: 01/07/2010
ISBN: 9781848874947
Free Home Delivery
on all orders
Pick up orders
from local bookshops
Reviews
Showing 1 - 3 of 3 reviews.
Review by tbrennan1
16/06/2015
A literary masterpiece of the Vietnam war. The hero Mellas, a 2nd Lieutenant and 21 years old joins Bravo company near the DMZ at the start of his 13 month tour.He soon discovers he has three enemies , the jungle and its myriad problems of leeches ,diseases and wild animals ,the N.V.A. who are trying to kill him and his own battalion senior officers who keep sending the company on murderous missions to increase "the body count" of enemy killed. Furthermore there is racial tension within the platoons and company reflecting the racial conflicts back in American society. The author , a Vietnam veteran himself , brings to life the various individual Marines who must trust each other in their patrols and combat missions, if anyone is to come home safely. Matterhorn ,Eiger and Sky Cap conjure up to this reader, the pain and suffering of warfare and the utter futility and loneliness the individual feels on the battlefield. This war novel while enumerating the blood, death ,hunger and madness of combat is at the same time uplifting and inspiring in the story -telling of the heroism of individual Marines and their sacrifices for each other. I found it difficult to leave this book down once I started reading and I found myself thinking about the wonderful individual portraits woven by the author. I cannot praise this novel enough.
Review by Cormach
16/06/2015
Outstanding! I didn't so much read this book - I LIVED it. It felt so real from the very beginning that I began to wonder if I really wanted to go on this journey but am I glad I did!! A brilliant, brilliant book - Thank you Mr. Marlantes
Review by Eyejaybee
16/06/2015
An interesting novel, but one that was probably at least three hundred pages longer than it needed to be. The basic idea was very sound, and Marlantes was able to convey the sheer ghastliness of conditions of the US Marines fighting in the Vietnamese jungle, and the simmering racial tensions within the Corps.However, the constant wrangling and intriguing between the different officers became simply tedious after two or three hundred pages and I found it difficult to summon sufficient interest to care any longer.