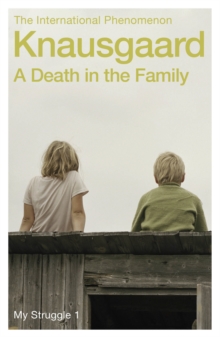 A Death in the Family : My Struggle Book 1
Paperback
Description
'It's unbelievable... It's completely blown my mind' Zadie SmithKarl Ove Knausgaard writes about his life with painful honesty.
He writes about his childhood and teenage years, his infatuation with rock music, his relationship with his loving yet almost invisible mother and his distant and unpredictable father, and his bewilderment and grief on his father's death. When Karl Ove becomes a father himself, he must balance the demands of caring for a young family with his determination to write great literature.
Knausgaard has created a universal story of the struggles, great and small, that we all face in our lives.
A profound and mesmerizing work, written as if the author's very life were at stake. Shortlisted for the IMPAC Dublin Award.
Information
Format: Paperback
Pages: 496 pages
Publisher: Vintage Publishing
Publication Date: 07/03/2013
ISBN: 9780099555162
Free Home Delivery
on all orders
Pick up orders
from local bookshops
Reviews
Showing 1 - 4 of 4 reviews.
Review by PhilipJHunt
16/06/2015
Strange. I wanted to like this, because it is so well written. Echoes of Proust, Hemingway and Virginia Woolf. But it's a rambling affair. Partly this is its charm. It reads like streams of consciousness, and these are insightful and rewarding. And the streams divert into charming plot developments as we proceed from youth towards adulthood and the death in the family without ever reaching the funeral, which may have provided a natural denouement. All credit to the translator, Don Bartlett, who makes the book read like it was written first in English, apart from Norwegian place names and the occasional replacement, such as 'gymnas' for school, which remind the reader that we are in Norway, not Kansas.The book requires no effort to read, but it does ask for patience.
Review by starbox
16/06/2015
"The days from which these incidents are drawn were countless, the bonds they created between us indestructible",, August 23, 2014This review is from: My Struggle: Book 1 (Kindle Edition)This review is from: A Death in the Family: My Struggle Book 1 (Knausgaard) (Kindle Edition)An amazing read, but one that's hard to review. It's somewhere between a memoir and a work of literature: opening with the author recollecting his early childhood, with a father he fears (although we never really discover what causes such strong feelings); moving to the present day, where he describes marriage and children - love but boredom at much that this life entails . He describes his teenage years brilliantly: the huge effort of smuggling booze to a new year's party without his parents finding out; obsessive first love. And then midway through the book his father, who he hadn't seen for 18 months, dies an alcoholic, and as he spends time clearing up the house, he begins to realise how much he meant to him.Much of everyday life is described in excessive detail, yet somehow it doesn't bore - rather it makes you feel like you're there, watching all that happens. And in between, there are interesting, moving, highly relevant thoughts on life, art, nature, relationships.Looking forward to reading the sequels!
Review by Lirmac
27/08/2015
An intimate memoir written in the style of the most engaging fiction. Like Proust, but more visceral and immediate, Knausgaard keeps the reader utterly riveted in his extreme close-up descriptions of moments long past and the characters they contained. At times it seems as though his material is the commonplace, it is in fact the universal.
Review by AlisonY
27/08/2015
If you haven't heard of Karl Ove Knausgaard before, he is something of a national obsession in his native Norway on the back of this book and the subsequent 5 other volumes he has published about his life. He's looks like the bad boy of literature - all messed up hair and cigarettes, mad and faintly dangerous in a compelling sort of way. He rocks that homeless man crossed with Bob Geldof kind of look.I had read so much hype about this series of books I was almost afraid to start this hefty first volume in case it disappointed, but it was utterly captivating. I will not be able to do this book justice in whatever I review here, but I will have a go.It is a memoir written as a novel - no doubt with a fair bit of fictional padding, and indeed it's sold as a work of fiction - but it's so cleverly done. I haven't read Proust, but this series of work has been compared to it in just about every review I've read. He writes in very long paragraphs with no chapters and few obvious places to stop reading, and much of it is in stream of consciousness style. The first part of the book mainly reflects back on his childhood up to around the age of 16, particularly his relationship with his loving but mainly absent mum and his distant and difficult to please father. From time to time it skips back to present times, and in those parts Knausgaard does slip into arrogant self-obsessed philosophising and ruminating. I couldn't have read an entire book of this, but limited as it was his razor sharp observances were poignant and fascinating.On the surface there is nothing particularly fascinating in his childhood to support a main plot line, but Knausgaard is such a skilful writer you are totally drawn into the story, unable to stop turning the pages. He pays such attention to the most minor of details that you are sucked right into that town in Norway, getting cold feet in the snowy streets with him, sitting beside him in school, feeling the acute discomfort of sitting in the kitchen in silence with his father. The second part of the book focuses on the difficult few days in the immediate aftermath of his father's death (no spoiler - you're made aware that this is coming early on), returning to his home town to plan the funeral whilst trying to come to terms with the shocking level of self-destruction his dad's life had spiralled into. It is an acute account of the unexpected way in which his grief manifests itself, and again his observances are so pin sharp he touches every sense. I loved this book. It is a magnifying glass inside someone's head, and he touches the little things that resonate so strongly with all of us (many of which we'd rather not admit to). He has deliberately set out to write an acclaimed work of literature, and in places it runs away with itself (or rather he disappears too far inside his own mind), but mostly it's immensely readable.I will need a break before a delve into book 2 of the series, but I'm drawn to him and his life like a moth to the flame.
Also in the Knausgaard series | View all