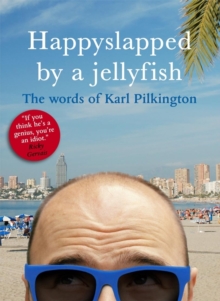 Happyslapped by a Jellyfish : The Words of Karl Pilkington
Paperback
Description
A collection of hilarious and compelling insights and anecdotes, diary entries, poems, `true' facts and cartoons on travel from Karl Pilkington, unlikely star of the Ricky Gervais Show, the world's most successful podcast - now in paperback.This is the travel book for people who don't particularly like travelling, it's Karl Pilkington, star of The Ricky Gervais Podcast Show, with a suitcase, occasionally with his passport, more often with a bemused suspicion of anything vaguely exotic, and an observant eye for the disappointments, tedium, general weirdness and absurdities of being a tourist abroad and at home.
From staring at Mount Vesuvius in case it erupts and the horrors of a Lanzarote nudist beach to the curiosities to be seen in the world's weirdest museum.
Told with his inimitable deadpan humour, Pilkington's stories are interspersed with fond reflections on life back in England, from Salford joy riders to what his girlfriend's mum and dad have for dinner on a Thursday (it's chops and veg. in case you're wondering).
Information
Format: Paperback
Pages: 224 pages
Publisher: Dorling Kindersley Ltd
Publication Date: 01/05/2008
ISBN: 9781405332996
Other Formats
EPUB from £5.99
PDF from £1.99
Free Home Delivery
on all orders
Pick up orders
from local bookshops
Reviews
Showing 1 - 3 of 3 reviews.
Review by elliepotten
16/06/2015
A funny collection of short pieces about the travels of Karl Pilkington. There are diaries and dreadful little poems, cartoons and 'true stories', photos and storyboards, all riddled with the unique Pilkington brand of madness. Whether it's New York or the Lake District, this reads very much like a child's 'What I did on my holidays', full of what he had for tea and bizarre observations about what he's seen and done. At first I could almost hear Stephen Merchant reading it, as he does in the 'Karl's Diary' segment of the wonderful <i>Ricky Gervais Show</i>! I wouldn't read it again, and I certainly wouldn't have paid the cover price of £8.99 because it's very short, but it was a nice bit of fun for my week off...
Review by littleton_pace
16/06/2015
Another great insight into the mind of Karl Pilkington. He seems to have grown up as an old man, already set in his ways and liking things done a certain way. His views on the world, what he thinks we need and don't need, are sometimes quite agreeable. "Why would we move to Mars since it's smaller than Earth?" As always; a great, fun read. :)
Review by knitwit2
16/06/2015
This book is probably only funny if you are a fan of "An Idiot Abroad". I found the BBC television series to be a delight and the book was no different. Karl tells of his and his girlfriend, Suzanne's various travels and the mishaps along the way. Karl has a bizarre outlook on life and shares his insights into places, food, culture, and other travelers.