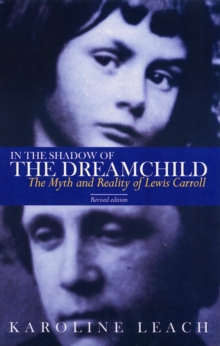 In the Shadow of the Dreamchild : The Myth and Reality of Lewis Carroll
Paperback
Description
This is the most significant biographical work on the author of Alice In Wonderland to be published in recent years.
Karoline Leach's study contends that Carroll was far from being emotionally - and sexually - obsessed with female children and his `muse' Alice Liddell.
She tells the strange story of how the false image of Carroll came into being and how he adored - and was adored by - women of all ages and enjoyed adult relationships that woud have scandalized the Victorian age in which he lived.
In The Shadow of The Dreamchild is a radical re-evaluation of the life and work of one of England's most mysterious literary figures.
Information
Format: Paperback
Pages: 288 pages, Yes
Publisher: Peter Owen Publishers
Publication Date: 15/10/2008
Category: Biography: literary
ISBN: 9780720613186
Free Home Delivery
on all orders
Pick up orders
from local bookshops
Reviews
Showing 1 - 1 of 1 reviews.
Review by waltzmn
16/06/2015
Although sometimes marketed as a biography of Charles Dodgson, that is not this book's purpose. It contains a brief biography, but most of the book is devoted to puncturing myths.Unfortunately, it is by no means clear that all those myths need to be punctured.The result is a book which is extremely controversial -- and justifiably so. Leach seems to take delight in going after absolutely everything, whether there is a factual basis for her doubts or not. The tone is controversial, not scholarly, making it very difficult to know what to take seriously. Her disputes with Morton N. Cohen are simply undignified.This is not to deny that the book has value. We have many visions of Lewis Carroll today -- as a semi-secular saint, as a stammering pedophile, even as a drug addict. Most of these visions are wrong -- the one about the drug use ridiculously so, the others at best exaggerated. They deserve to be attacked. But Leach is much too likely to throw out the baby with the bathwater. She clearly does not understand Dodgson -- witness the fact that she does nothing with the fact that he clearly suffered from Asperger's Syndrome (high-function autism).A truly complete biography of Charles Dodgson has never been written. Very likely it cannot be -- he was too private a man to give us a real insight into who he was. As one who shares many of his traits, I feel the incompleteness in every work ever written about him. Seeing many perspectives can be helpful. If you have already read two or three of the Dodgson biographies (those by Cohen, Woolf, and Clark being the best I know), then it might be time to turn to Leach. But to start with her -- definitely not something I would recommend.
Also by Karoline Leach