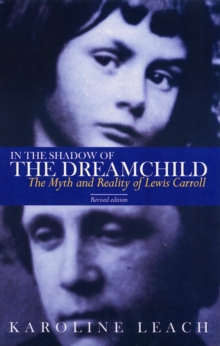 In the Shadow of the Dreamchild : The Myth and Reality of Lewis Carroll
Paperback
Description
"In the Shadow of the Dreamchild" uses new research to show that the long-standing image of the life of Charles Dodgson, better known to millions of fans around the world as Lewis Carroll, as exclusively child-centred and unworldly, his preoccupation with Alice Liddell, and his supposedly unnatural sexuality are all in fact nothing more than myths: that they belong to an invented persona, created around the name "Carroll," and have almost nothing to do with Dodgson's real but overshadowed life.
Meticulously researched, the book traces the development of this false persona and demonstrates how generations of biographers have helped to create fictions about Dodgson's life, rather than bring the documentary facts before the public.
It uses the data to recreate a startlingly new picture of Dodgson's personality, his experiences, and, crucially, his all-important relationship with the Liddell family." In the Shadow of the Dreamchild" challenges almost every scholastic and literary insight on Carroll that has developed over the past century.
Information
Format: Paperback
Pages: 288 pages, Yes
Publisher: Peter Owen Publishers
Publication Date: 15/10/2008
Category: Biography: literary
ISBN: 9780720613186
Free Home Delivery
on all orders
Pick up orders
from local bookshops
Reviews
Showing 1 - 1 of 1 reviews.
Review by waltzmn
16/06/2015
Although sometimes marketed as a biography of Charles Dodgson, that is not this book's purpose. It contains a brief biography, but most of the book is devoted to puncturing myths.Unfortunately, it is by no means clear that all those myths need to be punctured.The result is a book which is extremely controversial -- and justifiably so. Leach seems to take delight in going after absolutely everything, whether there is a factual basis for her doubts or not. The tone is controversial, not scholarly, making it very difficult to know what to take seriously. Her disputes with Morton N. Cohen are simply undignified.This is not to deny that the book has value. We have many visions of Lewis Carroll today -- as a semi-secular saint, as a stammering pedophile, even as a drug addict. Most of these visions are wrong -- the one about the drug use ridiculously so, the others at best exaggerated. They deserve to be attacked. But Leach is much too likely to throw out the baby with the bathwater. She clearly does not understand Dodgson -- witness the fact that she does nothing with the fact that he clearly suffered from Asperger's Syndrome (high-function autism).A truly complete biography of Charles Dodgson has never been written. Very likely it cannot be -- he was too private a man to give us a real insight into who he was. As one who shares many of his traits, I feel the incompleteness in every work ever written about him. Seeing many perspectives can be helpful. If you have already read two or three of the Dodgson biographies (those by Cohen, Woolf, and Clark being the best I know), then it might be time to turn to Leach. But to start with her -- definitely not something I would recommend.
Also by Karoline Leach