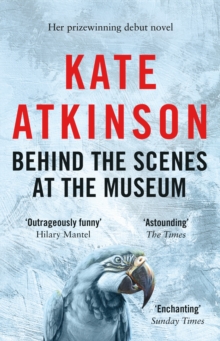 Behind The Scenes At The Museum
Paperback
Description
Ruby Lennox was conceived grudgingly by Bunty and born while her father, George, was in the Dog and Hare in Doncaster telling a woman in an emerald dress and a D-cup that he wasn't married.
Bunty had never wanted to marry George, but here she was, stuck in a flat above the pet shop in an ancient street beneath York Minster, with sensible and sardonic Patrica aged five, greedy cross-patch Gillian who refused to be ignored, and Ruby...Ruby tells the story of The Family, from the day at the end of the nineteenth century when a travelling French photographer catches frail beautiful Alice and her children, like flowers in amber, to the startling, witty, and memorable events of Ruby's own life.
Information
Format: Paperback
Pages: 384 pages
Publisher: Transworld Publishers Ltd
Publication Date: 01/04/1996
ISBN: 9780552996181
Free Home Delivery
on all orders
Pick up orders
from local bookshops
Reviews
Showing 1 - 5 of 14 reviews.
Previous | Next
Review by mcalister
16/06/2015
Not at all what I expected -- happily, far, far better. The story flip-flops between the chronological narrative of Ruby's life growing up in York, and brief but non-chronological episodes (interludes, "footnotes") that connect her back to other female members of her family -- primarily her mother, grandmother, and great-grandmother -- in ways that are not immediately obvious, but which unfold slowly throughout the book, both delightfully and tragically. Atkinson's prose has both a levity and a gravitas that balances beautifully between hilarity and pathos. A few passages could have profited from editing and compaction, but overall she uses language wonderfully without becoming too overburdened with words.This is a story about history and destiny and the patterns of life, and the ways in which women can choose between living and surviving. Recommended.
Review by vixen666
16/06/2015
A book that has the power to make you laugh and cry, this is a touching story of a young girl, Ruby, and her life as she grows up in York, England.
Review by murraymint11
16/06/2015
This is the first of hers that I've read, and I love her writing style. Very funny, but with subtle touches of sadness that jump out at you here and there. The narrative has a quirky 'British' sound to me.To quote another reviewer: "a treasure chest bursting with the painful, pitiful, sad, always fascinating details of the most ordinary of lives".I loved this book.
Review by SeriousGrace
16/06/2015
From the very beginning <em>Behind the Scenes </em> draws the reader in. Told from the point of view of young Ruby Lennox...(before she is even born) there is humor and sarcasm. Her voice reminds me of the wise-alec baby on Family Guy (sorry, the name escapes me). Ruby is omnipresent, giving the reader insight on every thought, feeling, dream, nightmare her family has. The alternate chapters (told in third person) give the backstory of Ruby's mother's life during the second Great War. The writing is not as humorous, nor as witty as when Ruby gets to speak. Over all the reading is a rollercoaster of ups and downs, twisting you through life's crazy moments.
Review by dylanwolf
16/06/2015
I am not sure that I would warm to her crime genre fiction, so I am particularly glad to have read Kate Atkinson's Behind the Scenes at the Museum first, which proves to be astoundingly good book. A family saga told by Ruby Lennox; it is full of unusual deaths but full of joyful humour and addictive prose. We are often told how a family member will meet their deaths as we are introduced to them. Ruby leaps backwards and forwards in time in relating these fascinating episodes. But there is a revelation towards which the later part of the book leads like a walk into a deeper, darker part of the forest. Simply brilliant. Can Kate Atkinson's other novels be as good?