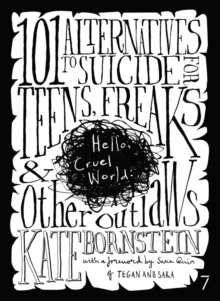 Hello, Cruel World : 101 Alternatives to Suicide for Teens, Freaks & Other Outlaws
Paperback
Information
Format: Paperback
Pages: 236 pages
Publisher: Seven Stories Press,U.S.
Publication Date: 02/05/2006
Category: Coping with personal problems
ISBN: 9781583227206
Free Home Delivery
on all orders
Pick up orders
from local bookshops
Reviews
Showing 1 - 5 of 5 reviews.
Review by deliriumslibrarian
16/06/2015
Awesome awesome book that really could save a life. Carry one at all times and offer it to the shy kid who is being bullied at the back of the bus. If you were the bullied one, and you made it, read this and celebrate. If you were a bully, read it too, you need Kate's compassion. And if you have lost someone who couldn't take the bullying, read this and remember them with love. Can I give it six stars?
Review by TeenCentral
16/06/2015
This is certainly a great book and one I would suggest to any freak having a rough time of it, but it's not really for teens; More for adults who have many of the same troubles as teens. I love Kate, but I work with teens every day and I'm pretty sure the majority of them would find a lot of this book either difficult to understand (postmodern gender theory isn't so much on the mind of your average teen) or condescending, in the nicest possible way, the way that adults tend to sound when they try to talk to teens in a "cool" way.
Review by jemsw
16/06/2015
Step one, don't kill yourself, step two, what? Well, according to Kate Bornstein, author of this book, there are a lot of possible step twos.She starts out her book with the simple, obvious stuff--call a suicide hotline, get on medication if it will help, talk to a friend, whatever. Then she gets into the more interesting options for what to do instead of killing yourself. Some of them didn't appeal, some of them appealed a lot. "Finish Your Homework" resonated a lot with me. I have at least a year to go before I have that PhD after my name, so that one should keep me ticking for twelve more months minimum. "Treat Yourself Like an Honored Guest" sounded very good as well. "Run Away and Hide" sounded almost too good. "Make a Deal with the Devil" and "Tell a Lie" didn't appeal, but maybe someday I'll "Make Art out of It" and write an amazing novel about all this. "Serve Somebody" reminds me that the community is out there waiting for me to be a part of it. And these are just a few of her amazing suggestions. Each option is rated on how easy, self-loving, and effective it is, so that you get an idea of how desperate you should be before you give it a crack.The whole book is written from a strongly queer-friendly, transgressive perspective, in case that wasn't already clear, so that really appealed to me, though it might not to some people, and while it's aimed to some extent at young people (they being the most likely to try and shuffle off the mortal coil), it's not oppressively youth-oriented. Most of it is just good, sound advice for anyone who needs some good ideas about how to keep on living for a little longer.
Review by Zura27
16/06/2015
I love this book. It made me feel more secure and wonderful about my self. Kate Bornstein has a very special way of communicating with people that just makes them feel better and their lives better. I only wish I could have read it sooner so I could have been sharing it longer. Thank you, Auntie Kate! :-)
Review by locriian
16/06/2015
Not just for teens, freaks, and other outlaws - I think this book could be life-saving for anyone thinking about suicide. Even if you don't need it now, read it anyways: you or someone you know might need it later. Unlike a lot of other suicide prevention, this book really takes a harm reduction approach in that its list of alternatives considers anything that isn't suicide and isn't "being mean" to be better than suicide. Its setup as a numbered list of alternatives makes it especially useful, as opposed to something like a list of reasons to live, these are all literally things you can do, right now, instead of killing yourself. This book saved my life, so I can definitely say it worked for me.