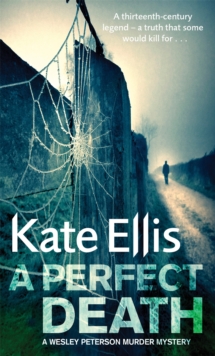 A Perfect Death : Number 13 in series
Paperback
Description
When a woman is burned to death in Grandal Field in Devon, it seems like a case of mistaken identity.
Until DI Wesley Peterson learns of a legend involving a French woman who burned to death there in the thirteenth century. And when he discovers that records of a previous excavation on the site have vanished, and that two archaeologists involved in that dig died in tragic circumstances, Wesley starts to investigate the possibility of a link between the legend and recent events.But edging closer to the truth brings unexpected danger to Wesley.
For the truth echoes a story of twisted love and obsession from many centuries ago - a truth that almost costs Wesley his life . . .
Information
Format: Paperback
Pages: 432 pages
Publisher: Little, Brown Book Group
Publication Date: 03/09/2009
Category: Crime & mystery
ISBN: 9780749909260
Free Home Delivery
on all orders
Pick up orders
from local bookshops
Reviews
Showing 1 - 2 of 2 reviews.
Review by cathyskye
16/06/2015
First Line: "This is the place."While on vacation in the south of France at Carcassonne, Detective Inspector Wesley Peterson and his wife Pam meet someone Wes went to university with but hasn't seen since those days. The man, acting cloak and dagger, says that he's worried about a woman in the Tradmouth area, but when he asks for a private meeting with Wes, he doesn't show up. Wes, marking it down to the man being as unreliable now as he was in university, tries to put it out of his mind. For some reason however, the whole thing has caught the imaginations of both him and his wife.When they return home, Wes is immediately drawn into the murder of an unidentified woman who was burned to death in a field-- which ties into a local legend of a woman who was burned to death in the same area in the thirteenth century. An archaeological dig was conducted there twenty years ago, but all the records of it have disappeared. Now another dig must be done before a housing development can be built. Slowly but surely, all the threads of secrecy and murder are drawing together in one dangerous knot that Wesley Peterson has to untie before anyone else dies.Having been plagued with reading some mediocre books in the recent past, I turned to Kate Ellis to bring me out of my mini-slump. My ploy worked like a charm. Through thirteen books in this series (I'm lagging two books behind-- on purpose), I've come to know and care for these characters, and I always love Ellis's trademark blending of an ancient mystery with a present-day one.It was good to see a copper actually take a vacation, and what made the vacation even more special was the fact that Wesley's wife, Pam, was drawn into the investigation. Pam has always been the character that I've liked the least due to her seemingly willful misunderstanding of her husband's job. But in A Perfect Death, she was interested in what her husband was doing, and I'm hoping that her fledgling understanding will continue to grow in future books.The only thing that was a bit off for me was the length. Even though the plot kept my interest and the pace maintained a steady flow, the length of the book just felt a bit too long. It could be residual funk left over from the bloated books I've read recently, but I don't think so.Even with that one small complaint, I greatly enjoyed this book and consider the entire series to be one of my favorites. The characters do evolve, and none of them are bullet-proof, so if you're wondering if you can read them out of order, the answer is yes, but you're going to miss out on the full effects of Ellis's well-drawn characters.
Review by nocto
16/06/2015
I'd pretty much given up on this series. Despite enjoying reading the books I was finding the closely coupled present day and historical mysteries a bit much. Find my previous write-ups for more detail!However I was trawling the library for books to take on holiday - to Dartmouth - and though it'd be fun to read another of these and see what the characters were up to. The books are set in a thinly veiled version of Dartmouth known as Tradmouth in the story. And indeed it was fun to read a story set in the place I was staying and not get my knickers in too much of a twist about plotting coincidences. Fun, and I'll probably dip back into the series in future.
Also in the Wesley Peterson series | View all