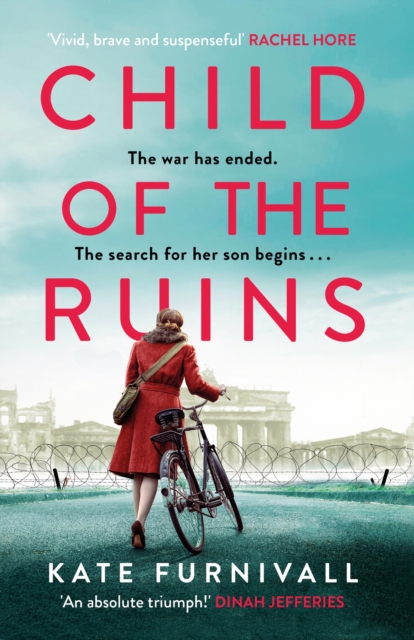 Child of the Ruins : a gripping, heart-breaking and unforgettable World War Two historical thriller
Hardback
Description
'A poignant love story' THE iTwo families divided by war. An entire city on the edge of disaster. 'I was blown away not just by the gripping story, which had my heart thumping at times, but the sheer eloquence of writing. It is a story of the strength of the human spirit, and of love which will not be defeated.
I know I will be recommending it to everyone' LESLEY PEARSE1948, Berlin.
World War II has ended and there is supposed to be peace; but Russian troops have closed all access to the city.
Roads, railway lines and waterways are blocked and two million people are trapped, relying on airlifts of food, water and medicine to survive.
The sharp eyes of the Russian state police watch everything; no one can be trusted. Anna and Ingrid are both searching for answers - and revenge - in the messy aftermath of war.
They understand that survival comes only by knowing what to trade: food; medicine; heirlooms; secrets.
Both are living in the shadows of a city where the line between right and wrong has become dangerously blurred.
But they cannot give up in the search for a lost child . . . 'An absolute triumph' DINAH JEFFERIES'Vivid, brave and suspenseful' RACHEL HORE'I defy anyone not to read beyond the first killer sentence' JANE CORRY'A harrowing and compelling portrait of Berlin in the aftermath of World War Two, told through the interconnecting stories of two courageous women struggling to survive in the rubble of their war-torn city' FIONA VALPY*** READERS LOVE THIS NOVEL! ***'The plot is exciting and fast paced. Thought-provoking and multi-layered as well as thoroughly entertaining.
A perfect read' 'Furnivall masterfully captures the history of a divided Berlin in the aftermath of WW2''This novel draws you in with its incredibly well-researched historical fiction and tenacious female leads''A sweeping historical drama that's powerful and tense, full of espionage, making you feel like you're living in post-war Berlin...
Beautifully written''This was such an emotive and immersive read that certainly stayed with me long after finishing the pages ...
I literally couldn't put this book down. A brilliant story''Such an emotional, powerful, well-written, totally gripping book.
I was blown away'
Information
Format:Hardback
Pages:416 pages
Publisher:Hodder & Stoughton
Publication Date:07/11/2023
Category:
ISBN:9781399713580
Information
Format:Hardback
Pages:416 pages
Publisher:Hodder & Stoughton
Publication Date:07/11/2023
Category:
ISBN:9781399713580