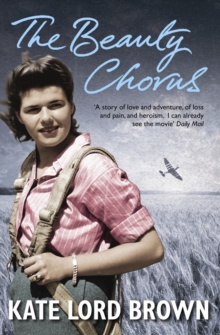 The Beauty Chorus
Paperback
Description
New Year's Eve, 1940: Evie Chase, the beautiful debutante daughter of an adoring RAF commander, gazes out at the sky as swing music drifts from the ballroom.
With bombs falling nightly in London, she resolves that the coming year will bring more than just dances and tennis matches.
She is determined to do her bit for the war effort. 2nd January, 1941: Evie curses her fashionable heels as they skid on the frozen ground of her local airfield.
She is here to volunteer for 'The Beauty Chorus', the female pilots who fly much-needed planes to bases across the country.
Soon, she is billeted in a tiny country cottage, sharing with an anxious young mother and a naive teenager.Thrown together by war, these three very different women soon become friends, confidantes and fellow adventuresses.
But as they take to the skies, they will also face hardship, prejudice and tragedy.
Can their new-found bond survive their darkest hours?
Information
Format: Paperback
Pages: 448 pages
Publisher: Atlantic Books
Publication Date: 01/02/2012
ISBN: 9781848878723
Free Home Delivery
on all orders
Pick up orders
from local bookshops
Reviews
Showing 1 - 1 of 1 reviews.
Review by birdsam0610
16/06/2015
When I saw the cover of this book, I just couldn't resist. I love to read books about women in World War II and this book dealt with a topic I knew very little about – the Air Transport Auxiliary, who had women pilots to ferry aeroplanes around the English airbases. (The fact that I was at one of my favourite bookshops – Reader's Feast in Melbourne, may also have helped to loosen my purse strings). It's quite a thick book and started off rather slowly, but certainly finished with a bang!There are three female characters, all pilots who share a house but come from very different backgrounds. Evie is rich but defiant – she increasingly takes a larger role as the book continues. Stella is a married woman with a secret as to why she's in English and Megan is the young teenager. Megan takes more of a back seat to the other two, not too sure why as she's just as likeable but much less detailed in her characterisation. Evie continually steals the spotlight as the most headstrong, outgoing and risky character but she's very likeable under it all. Stella is a bit of a cold fish and I couldn't really warm to her, as she seemed alternately icy and an emotional wreck. Megan is cute, but she's a bit immature and fades into the background as the story continues.The plot is the trials, tribulations, joy and sorrow that the girls share from their training to the height of the war. There are scary aeroplane problems, raucous times in nightclubs and the harsh realities of fuel and food rationing. One of the most of lovely things about this book is how it shows how women of all ages and classes joined together during hardship. It also covered a range of love affairs (from pedestrian to flaming hot) but that's not the focus. It's about what these women did to serve their country at any cost.Although the action heats up considerably towards the end – the book almost changing genres – it's at the cost of the other characters. It's predominantly about Evie and another pilot. That's not a bad thing (especially if you like Evie, as I did) but I was surprised that the action became so heated, given the gentler tone earlier on in the book.This is definitely an original take on World War II's women in action and Lord Brown should be commended for making learning history entertaining through the eyes of her characters. I'd definitely read her next book.