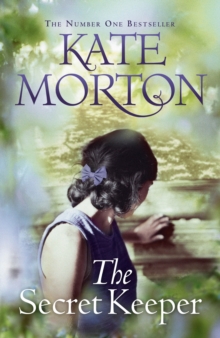 The Secret Keeper
Hardback
Description
1961: On a sweltering summer's day, while her family picnics by the stream on their Suffolk farm, sixteen-year-old Laurel hides out in her childhood tree house dreaming of a boy called Billy, a move to London, and the bright future she can't wait to seize.
But before the idyllic afternoon is over, Laurel will have witnessed a shocking crime that changes everything. 2011: Now a much-loved actress, Laurel finds herself overwhelmed by shades of the past.
Haunted by memories, and the mystery of what she saw that day, she returns to her family home and begins to piece together a secret history.
A tale of three strangers from vastly different worlds - Dorothy, Vivien and Jimmy - who are brought together by chance in wartime London and whose lives become fiercely and fatefully entwined.
Shifting between the 1930s, the 1960s and the present, The Secret Keeper is a spellbinding story of mysteries and secrets, murder and enduring love.
Information
Format: Hardback
Pages: 600 pages
Publisher: Pan Macmillan
Publication Date: 01/10/2012
ISBN: 9780230759503
Other Formats
Paperback from £7.09
EPUB from £6.39
Free Home Delivery
on all orders
Pick up orders
from local bookshops
Reviews
Showing 1 - 5 of 7 reviews.
Previous | Next
Review by nicx27
16/06/2015
I've read and loved Kate Morton's previous books but this has to be her best yet. It's a wonderful tale of family intrigue, covering periods in the 1940s, the 1960s and then in 2011.Well known actress, Laurel Nicolson, remembers an incident that shocked her to the core in 1961 and in the present day, when her mother is ill she finds herself reliving that period and thinking that she would like to discover more about her mother's life before she had a family and why the incident happened.The book is just full of twists and turns, leading to an amazing one at the end and I absolutely loved it. It had me turning the pages as quickly as I could to find out what secrets would come out. Brilliant stuff.
Review by tina1969
16/06/2015
During a party at the family farm in the English countryside, sixteen-year-old Laurel Nicolson has escaped to her childhood tree house and is dreaming of the future. She spies a stranger coming up the road and sees her mother speak to him. Before the afternoon is over, Laurel will witness a shocking crime that challenges everything she knows about her family and especially her mother, Dorothy. Now, fifty years later, Laurel is a successful and well-regarded actress, living in London. She returns to the family farm for Dorothy's ninetieth birthday and finds herself overwhelmed by questions she has not thought about for decades. From pre-WWII England through the Blitz, to the fifties and beyond, discover the secret history of three strangers from vastly different worlds - Dorothy, Vivien, and Jimmy - who meet by chance in wartime London and whose lives are forever entwined.My Thoughts:This book is so much better than 'The Distant Hours' by Kate Morton. Although so far my favourite is 'The Forgotten Garden'This book to my was like a pair of well worn comfy slippers. I just let myself glide right onto the story. The book itself was a tome of a read but there was something on every page to keep my interest all the way through.The story is a traditional family saga with all the twists and turns, and this book kept me on my toes and guessing. Everytime I thought I had it worked out I was so wrong and never did guess the ending.I love these type of books as for me they are an escape and I felt I was behind every character. A well worthy read that I would highly recommend.
Review by riverwillow
16/06/2015
This is a sprawling twentieth century Gothic novel and I'm pleased to say that as The Distant Hours really didn't rock my boat, a pleasing return to form by Kate Morton. I'd guessed some of the secrets revealed prior to the end of the book, but that didn't spoil my enjoyment as we flipped backwards and forwards across the decades as Morton threaded Dolly's, Vivien's and Jimmy's stories to its satisfying conclusion.
Review by wordbyword
16/06/2015
This book was a great satisfying read from start to finish. I was hooked from the first few pages and stayed hooked until the end. This is the second book of Kate Morton's I've read and I love the way she writes; I love the images she paints with her prose. A couple of reviews here have mentioned the readers figured out the mystery before the end and that's too bad for them. I didn't, I let the story unfold without trying to guess at the solution, and it was well worth it. I was more than pleased with the way the strands of the story all wove together at the end and will definitely look at other books by this author.
Review by Karen-uk
16/06/2015
I hadn't read any of Kate Morton's books before but I do love dual time frame stories and so I was looking forward to this one. I was captivated from the very start. The story began in 1961 with Laurel and her family living at Greenacres, the family home in the country and went back in time to the younger lives of Dorothy, Vivien and Jimmy during the blitz, and with both time frames there was just a wonderful sense of place and atmosphere.Laurel's investigations into her mother, Dorothy's life, are very cleverly woven into the earlier part of the story which takes place from 1941 and through the years of WW2. Dorothy is a complicated character, whilst there is a naivety about her, she can be very manipulative and sometimes deceitful. Jimmy meets Dorothy when they are both living in Coventry, before the war and their ensuing romance is very well written following their move to London where Jimmy ultimately becomes a war photographer. Vivien becomes a neighbour of Dorothy's in London and as the story unfolds their lives are bound together with tragic consequences.Laurel's research into that dreadful event of 1961 when she was 16 leads her to Oxford and to London and I was keen to find out her discoveries with her and felt her frustration when she came to what seemed to be a dead end. The help of her younger brother Gerry, who is a bit of a science boffin and who lived in his own world most of the time was invaluable and I loved the interaction between them. Laurel's sisters, Rose, Iris and Daphne were mostly peripheral to the story but you did get a real sense of family when they were all together.There was a fabulous twist at the end which I didn't see coming and which makes everything fall into place. I wanted to go back and re-read parts but on a Kindle this is not very practical. At 600 pages long, this is a certainly a lot of book but I enjoyed every page and look forward to reading Kate Morton's back catalogue from my bookshelf. My thanks to Netgalley and the publisher Simon & Schuster for the digital copy to review