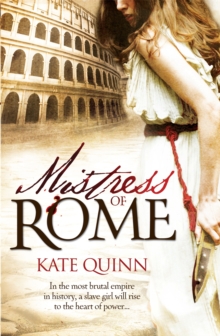 Mistress of Rome
Paperback
Description
Passion. Treachery. Murder... A heart-stopping epic about a Jewish slave girl and Rome's greatest gladiator, who become involved in a plot to assassinate an emperorOrphaned by Rome's savage legions, Thea, a slave girl from Judaea, has learned what it takes to survive.
She knows only violence until a chance meeting with gladiator Arius offers a shred of tenderness.
But their bond is severed when Thea is sold again, condemned to rot in squalor.
Years later, a singer known as Athena betrays no hint of her troubled past.
Catching the eye of the Emperor himself, she is swept into a world of decadence and depravity.
But although Domitian fears betrayal from every side, he is unaware that the greatest threat lies next to him - a slave girl who has come to be called the Mistress of Rome...
Information
Format: Paperback
Pages: 544 pages
Publisher: Headline Publishing Group
Publication Date: 10/06/2010
Category: Historical adventure
ISBN: 9780755357932
Free Home Delivery
on all orders
Pick up orders
from local bookshops
Reviews
Showing 1 - 3 of 3 reviews.
Review by nicx27
16/06/2015
This book is primarily about Thea, a Jewish slave girl living in ancient Rome, but also has a cast of characters that includes the Emporer of Rome, Thea's previous owner, the incredibly vicious Lepida Pollia, and a gladiator named Arius, amongst many others. It's a tale of intrigue, wrong-doing, cruelty, love and fighting.This book was a book group choice, and I wouldn't have picked it up otherwise. However, once I was into the story I found I raced through it and ended up really enjoying it. The second half in particular is very fast-paced. I wouldn't say it's a book that has much depth or substance, but it is a very good read and it wasn't bogged down with all the historical aspects of ancient Rome.This is a page turner of a book, and I will look out for Daughters of Rome, Kate Quinn's second book.
Review by abigailyow
16/06/2015
Mistress of Rome is a compelling read as it is gripping. I was immediately drawn in the story from page one to the end and it was so tastefully done that I stayed up all night reading instead of sleeping! That's how good the book was.I liked how Ms. Quinn tells the story by using relevant character's point of view. That way we're able to see their motives and desires clearly and relate closely to them. Thea, with her belief and strength, makes a wonderful heroine. Needless to say that I was cheering for her throughout the book. Arius, our brooding hero; one of the best hero I've seen in a while. Lepida, the full-fledged bitch. How I was itching to slap her senseless! Not to mention that the novel is rich in historical detail and description. I could almost picture myself there, standing in the middle of all the hubbub, watching the games and so on. I can't wait to pick up the author's next book!
Review by Ameise1
16/06/2015
What a breathtaking gripping historical fiction! I couldn't stop reading. Diving into Ancient Rome was a very easy task. Following all the network of intrigues was a great pleasure. Sometimes I got the feeling that I am an observer experiencing all the smells, music and gatherings by myself. All the characters are inimitable and so profoundly described that I've got the feeling I must know them since a long time.I can strongly recommend it for all friends of the Ancient Rome period.