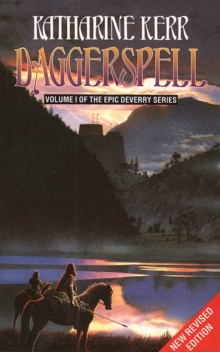 Description
In a world outside reality, a young girl's spirit hovers between incarnations, knowing neither her past nor her future.
In the temporal world lives Nevyn, who long ago vanquished the maiden's hand in marriage and forged a terrible bond between three souls.
Now he must atone the wrong of his youth.
Information
Format: Paperback
Pages: 480 pages
Publisher: HarperCollins Publishers
Publication Date: 13/12/1995
Category: Fantasy
ISBN: 9780006482246
Free Home Delivery
on all orders
Pick up orders
from local bookshops
Reviews
Showing 1 - 2 of 2 reviews.
Review by TraceyLea
16/06/2015
While I was reading Robert Jordan one of my best friends, N, was reading Katherine Kerr. Not sure how long she'd been reading Katherine Kerr for but somewhere, most likely during of our epic phone conversations, it came up that we had moved from reading the likes of Jane Austen and Charlotte Brontë to a new genre, Fantasy. I suggested a swap. I have not had much exposure to the genre and was keen to read something new. I read Daggerspell in three days. I don't think I had ever read a book so quickly, I loved it. It pulled at my heartstrings, I hated characters, I loved characters and I was constantly surprised by the plot.Thumbing through the book, which I have so long neglected, brings back the memories of an awkward teenager, who sat in the back yard, on beach towels, drinking tea, under an umbrella, at the height of the Australian summer with her sisters rereading the story until she had a grasp on what had actually happened.The story is definitely a 5/5 stars. There are not many fantasy authors with the skill to pull off such a complicated plot and not miss a thing. This book is what a fantasy novel should be, it is concise and the characters have immeasurable depth. It is a complete story but one which continues and if you don't have the next book, you'll probably have to quickly find the car keys and drive to your nearest bookstore.
Review by magemanda
16/06/2015
This is the first book in Katharine Kerr's long-running series about Deverry and the Westlands. It introduces the three linked characters of Jill, Rhodry and Nevyn. This book - and indeed the series - is set up in such a way that it will jump from future to past and back again. It can make for complicated reading and an issue with pacing, but it genuinely brings the events to life.The idea is that in the year 643 Galrion (who is to become Nevyn) makes a series of decisions that causes his lady love Brangwen to turn away from a life of dweomer (the name for magic) and become embroiled in an incestuous relationship with her own brother. Nevyn makes a vow that he will never rest until he has put things right. Consequently, he is unable to die and experiences the characters being reborn again and again while he tries to bring Brangwen to a life of dweomer. Jill is the latest woman that has the soul of Brangwen. The strength of Kerr's writing is not so much in the story itself, but in the characters who inhabit it, and in the way she is able to tell each of the short stories about one of the lives that Brangwen lives. Her ability to invest you in what is essentially a short story is exceptionally good.There are some tired cliches - the Elves for instance. Here called the Westfolk or the Elcyion Lacar, they are nomads with pointed ears and cat pupil eyes. They are foreign to the humans, and able to see the Wildfolk - the denizens of the etheric plane.I also got frustrated with two recurring over-uses of description. Many of the characters, especially the women, toss their heads. Constantly. Many of the characters keen in mourning. Frequently. Barring these two things, the writing flows well.I enjoyed the heavy Celt flavouring to Deverry, it was tied richly into the story. I do have a small complaint that a number of the names are familiar and Kerr does not bring on the characters of those in the secondary string enough for you to tell easily between your Pedyr's and your Daumur's. I thoroughly enjoyed this first instalment of the series and will read onwards eagerly.