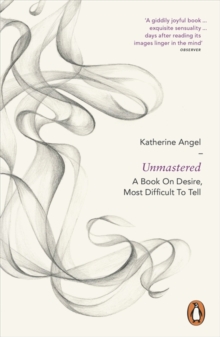 Unmastered : A Book on Desire, Most Difficult to Tell
Paperback
Description
Unmastered is groundbreaking, incisive and moving. Exploring desire and pleasure, grief and pain, it underlines the importance and difficulties of speaking desire as a woman.
How do we explore sexuality on our own terms, and find language for our desires, when desire and language are always social?
Applying an unflinching gaze to her own life, Katherine Angel has created, in prose both stark and lyrical, a searching and erotic work shifting in meaning and resonance even as it is read.
Information
Format: Paperback
Pages: 368 pages
Publisher: Penguin Books Ltd
Publication Date: 03/07/2014
Category: Psychology: emotions
ISBN: 9780718194772
Free Home Delivery
on all orders
Pick up orders
from local bookshops
Reviews
Showing 1 - 1 of 1 reviews.
Review by Widsith
16/06/2015
AN EXCURSION1. Years ago when Hannah and I moved house, we decided to throw out all our porn. There was a remarkable quantity of it, considering how often we talked about how unsatisfactory it was. We piled it all in a big bin-bag and took it, with a whole carload of other rubbish, to the local dump. Hannah's parents came with us to help unload the bags. Luckily you couldn't see anything through the black bin-bags.2. At the dump, as we were unloading old furniture and other detritus, we realised that the men who worked there were routinely opening every bag that was given to them, and going through the contents in case there was anything that should be put into the recycling areas.3. Hannah panicked. She left the porn bag till last, threw it at the guy in his fluorescent jacket, and sprinted back to our Nissan Micra yelling, 'Start the car! Start the car!' Her parents, in the back seat, looked alarmed. 'We're not in a hurry,' her mum said. 'Oh no!' Hannah kept saying. 'Drive!'4. I drove off. In the rear-view mirror, I could see the man from the council pulling a fistful of Rocco Siffredi DVDs out of the bag, open-mouthed.5. I like how honest and even-handed Katherine Angel is about porn (and about everything else in this rather remarkable essay).But misogynistic, coercive, tacky porn isn't necessarily unerotic – it just depends what you mean by erotic. These butch, taciturn men and shiny tottering women, in their bleakly naff trysts – they make me uncomfortable. They make me squirm with laughter, they make me cover my eyes, sometimes they offend me. There is something deathly, joyless in their performances. They leave me feeling vaguely deflated, slightly melancholic – a feeling akin, perhaps, to the desolation, the intense pang of aloneness, that male friends and lovers have sometimes described experiencing after orgasm alone or with someone they do not love.And yet these trysts, these dead-eyed unions – they make me wet. They irritate me, if rather joylessly, into action. The lubricious body has run ahead, has jumped through the hoops, and got what it wanted.It looks back over its shoulder and laughs.6. I wonder if this disassociation, this feeling that the body will react how it likes regardless of what you think, is something men are more used to than women.YOUR LAWS DO NOT APPLY TO ME1. What turns you on is out of your hands. Sex is not politically correct. Your libido does not give a fuck about your social convictions.2. The problem is that this means you may be sharing a bed – metaphorically, that is – with people who are stupid, or even dangerous. But what are women supposed to do, then? Shut up about it? Only admit to enjoying things that further the feminist project? Some people think so. I think Paul Bryant has suggested as much in a couple of reviews, if I'm not misinterpreting him.3. There's a somewhat notorious sex blog on tumblr by a woman who calls herself 'feminist-rapebait'. The title is not even the most problematic thing about her blog, which features the extremer end of BDSM gifs and images along with occasional captions explaining her responses to them. Recently she posted, and replied to, a message that someone called 'fucknodoms' had written about her:"Truthfully, I think everything that feminist-rapebait posts, has posted, and will ever post is harmful. She has a rape kink and encourages violence and misogyny. Many of her posts encourage women to believe that they are beneath men and should be degraded, raped, abused, and used, and that they should enjoy it. I have multiple examples after I came across her blog, here, here, here, and here.[links removed…sorry] She literally calls herself a rapedoll and spouts about how women are only good to be used for men's pleasure…The posts are damaging…she posts a lot of gross stuff and has obviously internalized a lot of misogyny."how low is your opinion of women that you believe my blog encourages women who choose to read this blog to do anything, besides finding an outlet for their sexuality that has been shamed and persecuted and condescended to by alarmists like you.I especially like that enjoy it highlight. The outrage that I want people to consent to the sexual activities they involve themselves in!! God forbid women enjoy the choices they make with their body. How dare they engage in sex that you, fucknodoms, have not personally approved of. How dare women be multifaceted human beings with complexity, and contradictions. How dare women dare to be anything that makes fucknodoms uncomfortable.4. I have not the slightest idea how this argument should be settled. In fact I get a bit annoyed with people who think this is a simple question.5. Katherine Angel worries about this a lot. She is very aware that women are often socialised to want what other people want them to want. 'I should be accommodating. I should be good. I should not leave the party when I want to.' Nevertheless; wherever it comes from, we do want what we want. Whatever that is.What I remember is that an image inserts itself, suddenly, of him hitting me. Of him, yes, hitting me. It remains unclear; what do I mean? Being slapped? I don't think so. Punched? Surely not. Somewhere between the two, perhaps. The content has blurred edges, but the feeling is precise.I want him to do something like hitting. Something – something – that would stop me in my tracks.I want to say crazy stuff, I whisper. He says, Tell me.But I don't; I hold back.6. She and her boyfriend are worried about the same thing – finding themselves sharing some opinion, some spark of arousal, with the sort of people who do this in seriousness. People for whom it reflects deeply-held beliefs about men and women and their relative worth. 'He too knows the fears, the risks; the symbol that becomes real, the real that becomes symbol. The metaphors we love by.'7. I keep thinking of a moment in Alan Moore's Lost Girls, where a woman in the middle of an orgy finds herself disturbed by the content of the Victorian incest erotica she's been looking at. 'It's an…unngh…exciting story, but the children, doing things with…ungh…with their own Mother! I mean, I have…unngh…a son myself, and I'd never dream…unngh…never dream of—''But of course you would not, dear Madam,' interrupts her partner. 'Your child is real.'TO THE WHOREHOUSE1. The moving spirits behind this book are Virginia Woolf and Susan Sontag. They are quoted often to great effect. Foucault, inevitably, is there as well, in mercifully small doses.2. What Angel is looking for, I think, is some feminist theory of sexual desire that does not leave people feeling guilty.Well…join the queue.We are all in the same lulling, lurching boat, fashioning our beliefs to resolve our feelings.3. There is something essentialist about desire. I am someone who likes fruity cocktails, cries at adverts, does yoga. I have always disliked set gender roles and I usually feel comfortably fluid about them. But when I'm with Hannah, I feel completely polarised into masculinity. She kisses me and my hands go to her wrists, her hair, her neck. Almost this gender polarisation has started to be what desire means, to me.4. Not everyone is like this. I have friends who feel exactly the opposite: they like the fact that their partner makes them feel (in the words of one friend) 'genderqueer'. So I guess everyone's different. 'It is fatal to be a man or woman pure and simple,' Angel says.5. This book is a shortish essay that has been spread out over a 350-page paperback using the expedient of a large font and a lot of white space. It can be read in a couple of hours. This didn't bother me, but it has bothered some people. The writing sometimes teeters on the edge of pretentiousness, but Angel's Englishness reassured me (unreasonably) that she was just about staying grounded.6. I loved it. I love that people are writing seriously and intelligently about this, and that the debate is not being abandoned to the margins of Fifty Shades of Grey. It's a little sui-generis gem that deserves a lot more readers than it will get.