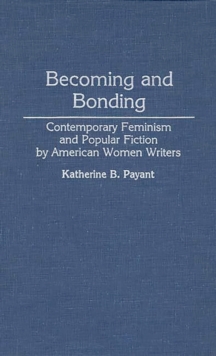 Becoming and Bonding : Contemporary Feminism and Popular Fiction by American Women Writers
Hardback
Description
Expounding the view that the feminist movement has both encouraged and enriched literature by women, Katherine Payant examines a large body of popular fiction of the late 1960s through the early 1990s, relating these writers and works to the women's movement and feminist theories.
The study concentrates on popular fiction, which is seen as evidence of the widespread influence of feminism and as a vehicle for dissemination of mainstream feminist ideas. The opening chapter argues that feminist-influenced popular literature has been neglected by critics and stresses the importance of its study to discern how social movements, such as feminism, affect the arts.
Chapters dealing with the 1970s and 1980s survey relevant feminist theories and tie them to representative novels.
Especially characteristic of the 1970s was the novel of development, of growing up female, or, in feminist terminology, the social construction of femininity.
The 1980s and early 1990s showed themes broadening into women's experiences, such as motherhood, and bonds between women, including mother/daughter relationships and friendships.
Chosen for special focus in individual chapters are Marge Piercy, Mary Gordon, and Toni Morrison, all immensely successful during the last twenty years and reflecting divergent perspectives on feminism.
Gordon, writing from an Irish Catholic perspective, synthesizes feminist ideas with traditional feminine experiences.
Morrison celebrates the strength and laments the pain of African-American women, but shows ambivalence toward some feminist issues in the light of the experiences of black women.
Written in accessible prose, this work will deepen the appreciation of readers of these novelists and can serve as valuable supplementary reading for courses in women's studies and women in literature.
An extensive bibliography includes primary sources and studies in feminism, literary criticism, and contemporary women's writing.
Free Home Delivery
on all orders
Pick up orders
from local bookshops
Also by Katherine B. Payant