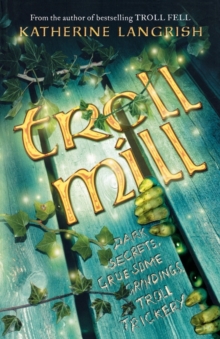 Description
Sequel to the highly-acclaimed Troll Fell, this is just as exciting, dramatic and atmospheric.
But watch out! You never know what sneaky creatures are lurking in the shadows of Troll Mill, waiting to jump out at you..."With a piercing squeal - with an anguished wooden groan - with a roar of muffled waters - Troll Mill woke from its sleep..."For three years Troll Mill has stood empty, and Peer Ulfsson has found a home with his friend Hilde.
But in the shadows of eerie Troll Fell, surrounded by sly and mischievous creatures, life doesn't remain peaceful for long...Returning from a hard day's fishing, and with a violent storm brewing, Peer watches horror-struck as his friend Kersten rushes to the shore - thrusting her young baby into his arms - and throws herself into the sea.
Struggling home with the baby, Peer passes the old mill, once owned by his wicked uncles, and sees the millwheel turning!
But it has been derelict for years... Who or what could be lurking in the shadows?This exciting, atmospheric novel from rising star, Katherine Langrish, mixes adventure with folklore monsters to create a brilliantly creepy sequel to Troll Fell.
Information
Format: Paperback
Pages: 336 pages
Publisher: HarperCollins Publishers
Publication Date: 01/01/2006
Category: Fantasy
ISBN: 9780007170753
Free Home Delivery
on all orders
Pick up orders
from local bookshops