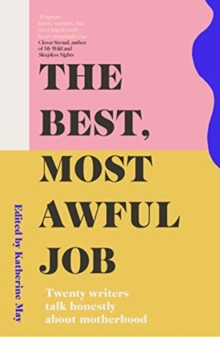 The Best, Most Awful Job : Twenty Writers Talk Honestly About Motherhood
Paperback / softback
Description
'Poignant, funny, sensitive, but most importantly, heart-stoppingly true.
This is an outstanding collection of essays, from some of the finest writers, which gets right to the dark heart of what it really means to be a mother.' - Clover Stroud, author of My Wild and Sleepless Nights ------------------------- Motherhood is life-changing.
Joyful. Disorientating. Overwhelming. Intense on every level. It's the best, most awful job. The Best, Most Awful Job brings together twenty bold and brilliant women to speak about motherhood in all its raw, heart-wrenching, gloriously impossible forms. Overturning assumptions, breaking down myths and shattering stereotypes, these writers challenge our perceptions of what it means to be a mother - and ask you to listen.
Contributors include: Michelle Adams - Javaria Akbar - Charlene Allcott - MiMi Aye - Jodi Bartle - Sharmila Chauhan - Josie George - Leah Hazard - Joanne Limburg - Katherine May - Susana Moreira Marques - Dani McClain - Hollie McNish - Saima Mir - Carolina Alvarado Molk - Emily Morris - Jenny Parrott - Huma Qureshi - Peggy Riley - Michelle Tea - Tiphanie Yanique 'A wonderful anthology.
I enjoyed it so much - the honesty, intelligence, fury and tenderness of the essays; and, importantly and refreshingly, the range of voices and stories it contains.' - Liz Berry, author of The Republic of Motherhood 'This is the kind of book that could well make a difference to someone's life ... every mother should read it.' - Laura Pearson, author of I Wanted You to Know 'If I had added a Post-it Note to every sentence in this book that made me laugh, wince in recognition, or faintly well up, I would have turned it into a paper porcupine.' - Ceri Radford, Independent
Information
Format:Paperback / softback
Pages:208 pages
Publisher:Elliott & Thompson Limited
Publication Date:05/08/2021
Category:
ISBN:9781783965946