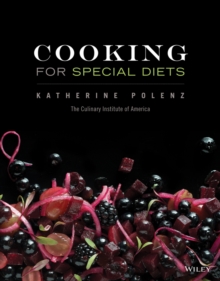 Cooking for Special Diets
Hardback
Description
On-trend meal-away-from-home solutions for the growing number of diners on special diets The increasing prevalence of food allergies and dietary restrictions can make it difficult or even impossible for an ever-growing number of diners to enjoy foods prepared away from home.
Many books deal with a single food issue, but for professional chefs who want to meet the demands of a skyrocketing customer base characterized by a diversity of special needs, Cooking for Special Diets is an indispensable resource.
From cooking for gluten sensitivity, Celiac disease, and diabetes to crafting delicious, on-trend dishes void of nuts, shellfish, eggs, and other food allergens, this book provides comprehensive information on all of the most common dietary restrictions.
This invaluable reference includes detailed instructions on choosing the right ingredients to address each type of diet, replacing and substituting for common allergens, and converting standardized recipes for cherished dishes to better suit every type of special dietary need. * More than 225 recipes, organized by appetizers, soups, salads, entrees, side dishes, breads, and desserts * Coverage includes creating meals for customers with food allergies as well as dietary restrictions related to heart disease, hypertension, high cholesterol, and cancer
Free Home Delivery
on all orders
Pick up orders
from local bookshops