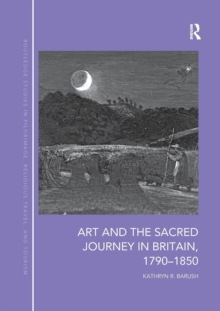 Art and the Sacred Journey in Britain, 1790-1850
Paperback / softback
Description
The practice of walking to a sacred space for personal and spiritual transformation has long held a place in the British imagination.
Art and the Sacred Journey in Britain examines the intersections of the concept of pilgrimage and the visual imagination from the years 1790 to 1850.
Through a close analysis of a range of interrelated written and visual sources, Kathryn Barush develops the notion of the transfer of `spirit' from sacred space to representation, and contends that pilgrimage, both in practice and as a form of mental contemplation, helped to shape the religious, literary, and artistic imagination of the period and beyond.
Drawing on a rich range of material including paintings and drawings, manuscripts, letters, reliquaries, and architecture, the book offers an important contribution to scholarship in the fields of religious studies, anthropology, art history, and literature.
Information
Format: Paperback / softback
Pages: 278 pages
Publisher: Taylor & Francis Ltd
Publication Date: 10/01/2019
ISBN: 9780367197223