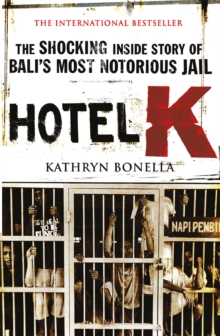 Hotel K : The Shocking Inside Story of Bali's Most Notorious Jail
Paperback
Description
THE INTERNATIONAL BESTSELLERHotel K - Bali's most notorious jail - is Hell in Paradise.Welcome to Hotel Kerobokan, or Hotel K, Bali's most notorious jail.
Its walls touch paradise; sparkling oceans, surf beaches and palm trees on one side, while on the other it's a dark, bizarre and truly frightening underworld of sex, drugs, violence and squalor.
Hotel K's filthy and disease ridden cells have been home to the infamous and the tragic: a Balinese King, Gordon Ramsay's brother, Muslim terror bombers, beautiful women tourists and surfers from across the globe.
Petty thieves share cells with killers, rapists, and gangsters.
Hardened drug traffickers sleep alongside unlucky tourists, who've seen their holiday turn from paradise to hell over one ecstasy pill.
Hotel K is the shocking inside story of the jail and its inmates, revealing the wild 'sex nights' organised by corrupt guards for the prisoners who have cash to pay, the jail's ecstasy factory, the killings made to look like suicides, the days out at the beach, the escapes and the corruption that means anything is for sale - including a fully catered Italian jail wedding, or a luxury cell upgrade with a Bose sound system.
The truth about the dark heart of Bali explodes off the page.
Information
Format: Paperback
Pages: 320 pages
Publisher: Quercus Publishing
Publication Date: 01/02/2012
Category: True crime
ISBN: 9780857382696
Free Home Delivery
on all orders
Pick up orders
from local bookshops
Reviews
Showing 1 - 2 of 2 reviews.
Review by meloncolly
16/06/2015
I had great expectations for this book as i enjoy this genre but i found it read more like a series of articles rather than an actual "story". There were plenty of shocking accounts of life inside this squalid and corrupt Bali prison but towards the end these tales of drugs and corruption grew repetitive and tiresome.I think if the author had focused more on explaining the individual prisoners personal stories it would have made for a more structured read, rather than jumping back and forth to various topics.As a previous reviewer mentioned, if you want to read a gritty, well written and honest account about a third world prison I suggest you read Marching Powder by Rusty Young or for a lighter but equally well written book try The Damage Done: Twelve Years Of Hell In A Bangkok Prison by Warren Fellows.Did any other readers find the slang word "bashed" or "bashing" was used far too often in the place of "beaten up" or "beaten"? Maybe its just me, but i found this to be an odd choice of word, not to mention there also seemed to be quite a few spelling mistakes in this book.
Review by zmagic69
16/06/2015
I thought this would be a good time to read this book as 2 of the Australian smugglers known as The Bali 9 face execution before the end of the month. This is a fascinating look inside a truly horrific place, that has been their home since being convicted, as well as home to a number of other foreigners, dubbed Hotel K , Hotel K is actually a prison in the center of Bali, surrounded by sun seeking hedonists and vacationers. You do not want to stay at Hotel K, and no one could read this book and not be repulsed by the conditions. Rock stars don't party like this, the prison is nothing but drugs sex and bribes, and while almost all of the prisoners the author profiles are guilty, you have to wonder what is the point of having a prison like this? You also learn just how purely corrupt the Indonesian legal system is. The is a very depressing book, and while you can't help but empathize with many of the characters they did elect to use, sell or import drugs into a country that does not hide the fact that they have the death penalty for doing so. Both the Bali 9 as well as Schapelle Corby are also profiled in this book, and while the verdict is still out on whether Miss Corby was innocent, a pawn, or guilty, her case highlights the corruption and ineptitude of Indonesia. Regarding the Bali 9, they are guilty and it is a sad terrible waste for these 9 inmates and their families, but they did try and smuggle heroin. What is amazing about the Bali 9 case is how deplorable the Australian government behaved, knowing this group planned to smuggle heroin INTO Australia, why they chose to let the Indonesians handle it knowing 9 of their own citizens would be facing the death penalty, rather than letting them get back to Australia and arresting them, is baffling. The excuse at the time that they wanted the kingpins in Bali rings hollow, and anyway never happened.If this type of book appeals to you go out and get Marching Powder by Rusty Young a book about a similar prison in Bolivia.