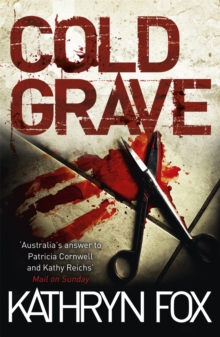 Description
The sixth Anya Crichton thriller in a series to rival Patricia Cornwell's Kay Scarpetta books. It feels like the safest place on earth. A family-friendly, floating palace. But, as Anya Crichton soon discovers, cruise ships aren't all that they seem...Statistics tell us that a woman is twice as likely to be sexually assaulted on a cruise ship than on dry land.
Customers aren't screened, so the ships are a haven for sex offenders and paedophiles.
With no policing, and floating in international waters, sexual assaults and passengers 'disappearing' are uncommonly frequent...So when a teenage girl is discovered, dead on the deck of the ship that she is holidaying on, Anya feels compelled to get involved.
There's no apparent cause of death, but Anya's forensics expertise uncovers more than the ship's doctors can...or want to. With the killer still on board, and subsequently a crew-member found shot, it becomes clear that the safe haven of the cruise-ship is actually anything but. And, as Anya comes under increasing pressure to abandon her investigations, will she continue? Or do whatever it takes to keep her own family safe?The sixth book to feature forensic pathologist Anya Crichton is perfect for fans of Patricia Cornwell and Kathy Reichs.
Information
Format: Paperback
Pages: 368 pages
Publisher: Hodder & Stoughton General Division
Publication Date: 30/08/2012
Category: Crime & mystery
ISBN: 9781444709537
Free Home Delivery
on all orders
Pick up orders
from local bookshops
Reviews
Showing 1 - 1 of 1 reviews.
Review by smik
16/06/2015
What I like in particular about Kathryn Fox's approach to her Anya Crichton series is her willingness to embed community concerns. In the previous novel in this series DEATH MASK the central themes were violence, sexual abuse, and drug abuse, in high profile sportsmen. There were plenty of media examples for her to draw on.The inclusion of much-discussed community issues gives Fox the opportunity for extensive research In COLD GRAVE there are at least two themes both springing from the increased availability and popularity of luxury cruises as attractive holidays. The Dianne Brimble case (2002) highlighted the way cruises can attract particular groups of people out for a good time and how individuals can easily become the victims of these groups. I felt the case of Lilly Chan drew heavily from that case.The second issue related to cruise liners is their potential for marine contamination, particularly with the building of ships that are the size of a small city, with the attendant outputs in garbage and sewage. These ships are frequently in close proximity to shorelines - no one wants to just stare at an unchanging sea do they? - and there are sometimes accidental or deliberate discharge of contaminants. Attempts to control this behaviour by legislation often becomes snarled in jurisdictional disputes, particularly as stricter controls make running the cruises more expensive for the companies who own and register the ships.So in COLD GRAVE Anna and ex-husband Martin become involved in the investigations of the death of 15 year old Lilly Chan and the kneecapping of a crew member. The presence of Martin and their son Ben provides a connecting thread to earlier novels in the series, without being overbearing.My rating: an Australian author well worth looking for. It is one of my top reads so far this year.