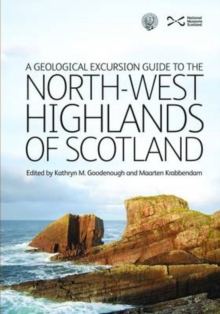 A Geological Excursion Guide to the North-West Highlands of Scotland
Paperback / softback
Description
This is a companion volume to A Geological Excursion Guide to the Moine Geology of the Northern Highlands of Scotland, published in 2010 by NMS Enterprises Limited - Publishing in conjunction with Edinburgh Geological Society.
Although new roads and bridges have been constructed since the excursion guide to the Assynt district of Sutherland was published in 1979, the dramatic landscape of the North-West Highlands of Scotland remains remote.
This guide describes the bedrock geology from Ullapool northwards, including many classic localities in the Moine Thrust zone and its foreland.
The area largely corresponds to the North-West Highlands Geopark.
In preparation for this edition, a large team was assembled to provide up-to-date interpretations of the structural relationships, sedimentology, and metamorphic history. the 16 escursions vary from roadside stops to full-day mountain walks over rough terrain, with weather liable to sudden change.
Advice is given on access, and on local accommodation and transport.
Information
Format: Paperback / softback
Pages: 228 pages, colour
Publisher: NMSE - Publishing Ltd
Publication Date: 15/05/2011
Category: Geology & the lithosphere
ISBN: 9781905267538