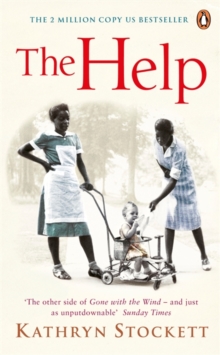 Description
The Help is the phenomenal international bestseller (that inspired the Oscar nominated film) by Kathryn Stockett.Enter a vanished and unjust world: Jackson, Mississippi, 1962.
Where black maids raise white children, but aren't trusted not to steal the silver . . .There's Aibileen, raising her seventeenth white child and nursing the hurt caused by her own son's tragic death; Minny, whose cooking is nearly as sassy as her tongue; and white Miss Skeeter, home from College, who wants to know why her beloved maid has disappeared.Skeeter, Aibileen and Minny.
No one would believe they'd be friends; fewer still would tolerate it.
But as each woman finds the courage to cross boundaries, they come to depend and rely upon one another.
Each is in a search of a truth. And together they have an extraordinary story to tell...'The other side of Gone with the Wind - and just as unputdownable' The Sunday Times'A big, warm girlfriend of a book' The Times'Harper Lee's classic novel To Kill a Mockingbird has changed lives.
Its direct descendent The Help has the same potential . . . an astonishing feat of accomplishment' Daily ExpressKathryn Stockett was born and raised in Jackson, Mississippi.
After graduating from the University of Alabama, she moved to New York City, where she worked in magazine publishing and marketing for nine years.
She currently lives in Atlanta with her husband and daughter.
The Help is her first novel.
Information
Format: Paperback
Pages: 464 pages
Publisher: Penguin Books Ltd
Publication Date: 10/04/2010
ISBN: 9780141039282
Other Formats
Paperback from £7.09
CD-Audio from £23.09
EPUB from £4.99
Free Home Delivery
on all orders
Pick up orders
from local bookshops
Reviews
Showing 1 - 5 of 21 reviews.
Previous | Next
Review by CaterhamBookGroup
16/06/2015
3 and a half stars, because overall the group enjoyed this book.
Review by Lman
16/06/2015
From little things, big things grow...This book made me so mad! Let me re-phrase that: the <i>subject</i> of this book made me so mad - and sad, while altogether mesmerised. What an emotional roller-coaster ride this was. I had to keep reminding myself that these extremely well-written, profoundly well-captured experiences were from 50 years ago (!) - though, unfortunately, similar attitudes are still the norm in places today. But how illuminating and how honest is this memoir; shaped simply as a legitimate rendition from three perspectives about shared life-changing, momentous circumstances in (what I consider is) a bleak chapter of history; with a candour and an openness that is to be lauded.Seemingly, from out of nowhere, and emanating from a juxtaposition of unplanned elements, an unusual alliance is formed within the lives of three women, living in race-divided Jackson, Mississippi, circa 1962; leading to a young white woman, Skeeter, beginning a frank and forthright written history of the ordeals of black maids under their white Southern mistresses' indenture. And hence a biography of the times. But the story belongs to brave, canny, sensible Aibileen raising her seventeenth white child (and counting), while still grieving the loss of her only son; and her best friend Minny, seventeen years younger and at once sassy, solid and susceptible - both a strength to each other, and to their community. As each rails internally, though more openly in Minny's case, against their increasingly difficult and demeaning situation, a precarious rebellion is triggered - the consequences to all three, and to all those around them, meticulously detailed in the constant horrors dealt to any who dare defy the 'natural order' of this state.I cannot emphasise how well this narrative works! From the moment I poked my nose inside this book, I was hooked. By employing the three discrete, distinct viewpoints and oscillating cleverly between, Ms Stockett creates a fascinating, intertwined chronicle of events - wholly genuine in tone, inexorably believable in total; and well...so very real! From these conversations emerges a reasoning, a comprehension, an instruction - albeit somewhat irrational, absurd and downright unfair in many instances - behind the every action of both 'sides' in this discourse; ultimately providing a deft scrutiny of the rigid hypocrisy of the times, but an understanding nonetheless. And as the enterprise gathers apace, almost beyond the participants control, the tension and foreboding in the story-line ratchet up accordingly - I was beside myself with worry as I rapidly turned the pages in anticipated dread; sharing every concern, every small victory, and every emotion alongside these wonderful women. I laughed, I cried and I willed them on regardless. Their personal endeavours begged to be told!Furthermore, I love the title - and the parallel of this account with the genesis of the book as the premise, and its underscoring of the whole tale: <i>Aibileen scratches her nose, says, "What do think about just calling it...</i>Help<i>?"</i>Help,<i> Minny repeats, like she's never heard of the word....."I like...</i>Help<i>," I say, because I really do.... I think that's a good title"...."Good is right," says Minny. "Cause if the thing gets printed, Lord knows we gone need some." </i> (p. 356)Which, in fact, is not true. Little help will be necessary to sell this book; the hype is well and truly deserved, the book worthy of its accolades. And yes, the situations unveiled here are not limited to only one country, to one society; decidedly similarities are ongoing around the world today. My wish (and possibly the author's) is that this story, along with many others, will conceivably help expose the appalling inequities imposed on undeserving and unwilling participants in the past, help to resist such predicaments in the future and help provide a culture of enlightenment...and hope.Now that's some <i>Help</i> indeed!(Jan 1, 2011)
Review by mumfie
16/06/2015
I have to say I thoroughly enjoyed this. It's an excellent read.It's not deep and meaningful and does not say anything significant or new about living in Mississippi in the 60s, or about being black.As a tale of a white woman writing a book about how the black hired help really feel about their white mistresses it works very well. They come together despite their fears of consequences to have their own small voice and they do with with good cheer and humour. Their rising awareness of the development of the black movement serves as background. It almost seems to have been added in because it ought to be there, rather than because it contributes to the story.However, these black maids (if they were white they would be housekeepers) have their own home; none of them appear to be live-in maids. So even though they may be struggling financially, they are still quite well off even if they can be fired with no notice and have no social security. Comparatively well off. The story is written by a white person. Without wishing to seem racist, I'd like to hear this tale written by a black woman and see the difference. Is this still a white perception of how black people were? It's certainly more insightful than Gone With the Wind but that's not saying much.The female camaraderie, support, love and friendship is however a happy representation of good (and bad) women's circles of friends.
Review by eesti23
16/06/2015
This was an interesting book that I quite enjoyed. Through it the reader is faced with issues that while known are often not focused on and this makes the story all the more shocking. Stockett does an excellent job of bringing you into the world of the maids and the challenges that they faced both in and outside of the workplace. The plot is filled with tension and suspense, often leaving you guessing about what is around the corner.
Review by PennyAnne
16/06/2015
I had been putting off reading this book as for some reason I assumed it would be a bit 'Mills and Boon-ish' but I was quite wrong. This book tells the story of three women (2 black and one white) who live in a small town in Mississippi in the 1960's and who agree to write a book about what it is like to be 'the help' in a white household. It hadn't dawned on me before exactly how far the apartheid went at this time - black people working in white households had a separate toilet, there were separate counters to buy stamps from at the post office, separate supermarkets etc etc. The hypocrisy of the white people in allowing their children to be raised by black nannies while at the same time treating those nannies as not quite human - breathtaking! So much in this book makes me angry or sad but there are some very funny and uplifting passages as well. I remain uneasy that the author is a white woman and intend to search out what black commentators felt about the book but overall I am very glad I read it.