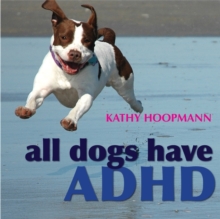 All Dogs Have ADHD
Hardback
Description
All Dogs Have ADHD takes an inspiring and affectionate look at Attention Deficit Hyperactivity Disorder (ADHD), using images and ideas from the canine world to explore a variety of traits that will be instantly recognisable to those who are familiar with ADHD.Following the style of the award-winning All Cats Have Asperger Syndrome, charming colour photographs of dogs bring to life familiar ADHD characteristics such as being restless and excitable, getting easily distracted, and acting on impulse.This delightful book combines humour with understanding to reflect the difficulties and joys of raising a child with ADHD and celebrates what it means to be considered `different'.
This absorbing and enjoyable book takes a refreshing approach to understanding ADHD.
Information
Format: Hardback
Pages: 72 pages, 73 photographs
Publisher: Jessica Kingsley Publishers
Publication Date: 15/09/2008
ISBN: 9781843106517
Free Home Delivery
on all orders
Pick up orders
from local bookshops
Reviews
Showing 1 - 3 of 3 reviews.
Review by shelf-employed
16/06/2015
A book with simple black text on a plain white background, accompanied by irresistible color photographs of dogs, doing all the sorts of things that dogs do best. "When opportunity presents itself, he goes for it, (photo of a small dog streaking down the street pulling his owner) and may dive straight into a situation without thinking of the consequences (photo of dog leaping off stairs into a river)."This book serves as a subtle reminder to parents, teachers and friends, that a child with ADHD is just as lovable, just as adorable as your beloved housepet, and probably deserves at least as much slack.
Review by sreinh2
16/06/2015
I thought that this was a beautifully written book that shows the difficulties and frustrations that come with having ADHD. I loved that the author associates ADHD with dogs because then maybe more people will read it because they might have dogs in there family. So it is more relatable to some people. This book really does a good job of showing the how frustrating it may be for someone who has ADHD, they can't concentrate for long, and they get bored easily. I also really liked the way that the author used photographs of dogs as pictures in the story. Each dog shows another characteristic of ADHD and I thought that this was very relatable for some people. While I was reading this I was thinking about my cousin who has ADHD and her dog, who I have seen in the same positions as the dogs pictured in the book. The message in this book is that with the right support and encouragement anyone can achieve their dreams and I think that this is a good message for a children's book. Overall, I really enjoyed reading this book. I learned something new and I love books about dogs.
Review by paula-childrenslib
27/08/2015
Pictures of dogs in usual and unusual positions help illustrate how the behaviors of people with attention-deficit hyperactivity disorder are similar to those of dogs.