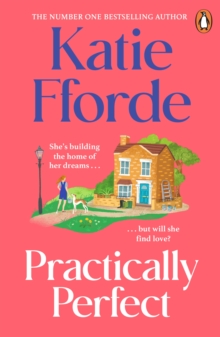 Practically Perfect
Paperback
Description
Home is where the heart is. This is a wonderfully romantic novel from the No. 1 Sunday Times bestselling author of Recipe for Love, A French Affair and The Perfect Match.
Anna, a newly qualified interior designer, has decided it's time to put her money and her expertise where her mouth is.
She's risked everything on buying a tiny but adorable cottage so she can renovate it, sell it on, and prove to her family that she can earn her own living.
Outside, the chocolate-box cottage is perfect, but inside all is chaos: with a ladder for a staircase, no downstairs flooring, candles the only form of lighting and a sleeping bag and camping mat for a bed, Anna's soon wondering whether she's bitten off more than she can chew.
Her neighbour Chloe comes to the rescue, providing tea, wine and sympathy - and a recently rescued greyhound, Caroline.
But just as Anna's starting to believe she's found the perfect idyll, the good-looking yet impossible Rob Hunter arrives on the scene, putting up more obstacles than the Grand National.
Can Anna get over all of life's hurdles?
Information
Format: Paperback
Pages: 416 pages
Publisher: Cornerstone
Publication Date: 01/03/2007
ISBN: 9780099472377
Free Home Delivery
on all orders
Pick up orders
from local bookshops
Reviews
Showing 1 - 3 of 3 reviews.
Review by miss_read
16/06/2015
What's wrong with me? I used to love Katie Fforde. Have I changed? Has my taste in books changed? Or has Katie Fforde changed? Is her publisher too anxious to get a new book out every year that she's become lazy? I don't know the reason, but I really didn't enjoy this read at all. It's a shame because after reading a real dud in my previous book, I was looking forward to Katie Fforde's never-let-me-down style of easy reading.When the heroine, Anna, keeps saying things like, "I'm such a ninny," or (worse yet), "I'm such a nana [banana]," you know it's time to put a book down. I could feel the bile rising in my throat.This is the story of Anna, an interior designer who moves to the country to do up an old cottage. In the process, she adopts a greyhound, incurs the wrath of the greyhound rescue man, makes a lifelong friend with neighbour Chloe, incurs the wrath of the housing inspector (who, of course, is also the greyhound rescue man), sleeps with her old love, dumps her old love ... and, naturally, falls into the arms of said greyhound/housing inspector man.And they live happily ever after ... yada yada yada. Yawn.I won't give up on Katie Fforde because I know she's capable of much better than this. Yes, it's chick-lit, but it's the only chick-lit I indulge in, so it really ought to be good. Let's hope her next book is back to her usual standards.
Review by Daisydaisydaisy
16/06/2015
An enjoyable, untaxing, if entirely predictable read - but it is chick lit after all!
Review by auntieknickers
16/06/2015
[author: Katie fforde] has a surefire formula for the kind of romance books I like. Her heroine, who starts out either single or newly single, always has a project, and a challenging and creative project at that. She will not be looking for a "relationship," in fact she will normally say she hasn't time for one...but of course by the end of the book one will transpire. Occasionally there will be a Mr. Wrong somewhere in the middle. The heroine will also be a woman who enjoys and values the friendship of other women. Oh, and of course they are set in England. <br/><br/>[book: Practically Perfect] is no exception. Protagonist Anna is an interior designer, a profession she continually has to explain. (If you've ever watched Trading Spaces on BBC America, you'll understand when she gets a bit shirty if someone says, "Oh, like Linda Barker!") Having cut her teeth on a London flat she and her sister restored, she's now bought a cottage in Gloucestershire to do up. It turns out that it's a "listed building" (similar to the National Register of Historic Places here) and there are strict rules about what she can do to it. On top of that, she finds herself rescuing a greyhound, which was the last thing she needed, as she's living in the cottage (which previous owners had more or less gutted) while doing it up. During the course of the book she will meet up with an old flame, make friends, and have some hilarious adventures involving a Jacuzzi at a home show. All's well that ends well and this is a fine way to spend a few hours of escapism.