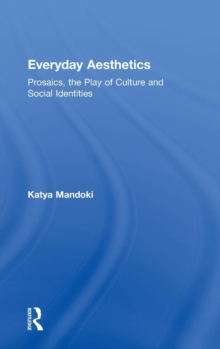 Everyday Aesthetics : Prosaics, the Play of Culture and Social Identities
Hardback
Description
Katya Mandoki advances in this book the thesis that it is not only possible but crucial to open up the field of aesthetics (traditionally confined to the study of art and beauty) toward the richness and complexity of everyday life.
She argues that in every process of communication, whether face to face or through the media, fashion, and political propaganda, there is always an excess beyond the informative and functional value of a message.
This excess is the aesthetic. Following Huizinga's view of play as an ingredient of any social environment, Mandoki explores how various cultural practices are in fact forms of playing since, for the author, aesthetics and play are Siamese twins.
One of the unique contributions of this book is the elaboration and application of a semiotic model for the simultaneous analysis of social interactions in the four registers, namely visual, auditory, verbal and body language, to detect the aesthetic strategies deployed in specific situations.
She argues that since the presentation of the self is targeted towards participants' sensibilities, aesthetics plays a key role in these modes of exchange.
Consequently, the author updates important debates in this field to clear the way for a socio-aesthetic inquiry through contexts such as the family, school, medical, artistic or religious traditions from which social identities emerge.
Other Formats
EPUB from £39.59
PDF from £39.59
Paperback / softback from £39.19
Also by Katya Mandoki