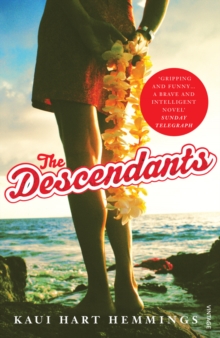 The Descendants
Paperback
Description
A descendant of one of Hawaii's largest landowners, Matt King finds his luck changed when his fun-loving, filghty wife Joanie falls into a coma, victim of a boating accident.
Matt is left in sole charge of his two daughters, teenage ex-model and recovering drug addict Alex, and Scottie, a feisty ten-year-old. And then Matt discovers Joanie has been having an affair.
Deciding to seek out Joanie's lover so that he too has a chance to say his goodbyes, Matt takes to the road with his daughters on a memorable journey of painful revelations and unexpected humour...
Information
Format: Paperback
Pages: 304 pages
Publisher: Vintage Publishing
Publication Date: 01/03/2009
ISBN: 9780099513131
Other Formats
Paperback from £6.29
EPUB from £3.99
Free Home Delivery
on all orders
Pick up orders
from local bookshops
Reviews
Showing 1 - 2 of 2 reviews.
Review by Raven
16/06/2015
A charming oddity of a novel, this one. It was written as an expansion of a short story, and it shows - there is very little overall structure, and indeed plot. But... it doesn't suffer for it, not really. It concerns an unhappy lawyer named Matt King, who has several problems: he's the last direct descendant of a Hawaiian landowning family, and is being called upon to dispose of large quanties of land; his wife is dying; and he's just found out she was having an affair.So, in despair, he and his two daughters - Scottie, who's an outrageous self-harming ten-year-old, and Alex, who's eighteen and an angry former junkie - and Alex's friend, Sid (who's just... strange) go on a rambling odyssey through the islands to tell everyone who needs to know that Joanie, Matt's wife, is dying, up to and including the man she was having the affair with.And that's it. There are no plot twists that we didn't see coming, there is no plot, as above - but the place, time, and mood, are effortlessly evoked (grief, done well against a background of Hawaiian sunshine), and the characters become more and more real as the novel progresses, and genuinely likeable. I was reminded of <i>Little Miss Sunshine</i> - the family's loving dysfunction rings true in many of the same ways - and the echoing sadness at the centre of the novel is made real by the constant, absurdist humour. (I particularly like the hapless narrator's attempt to tell his eldest daughter of her mother's death: her response is to sink through several feet of water and yell, "Why'd you have to tell me in the goddamn pool?") Much of it comes from the fact that Matt tries to be a good parent and stop them all from swearing, drinking and smoking pot, but his wife is dying and it's all he wants to do, too. Of course, in the end... it's sad. But we knew that. It's beautifully done, and has much to say about family and identity, and is very funny getting there, besides. Lovely.
Review by Bagpuss
02/03/2016
I wouldn't have read this book if it wasn't chosen by one of my Book Club members – we're going to discuss it after watching the film together. I've tried reviewing this book over the last few days, but really I don't know what to say about it apart from that I feel a bit ambivalent towards it. It is hard to have any sympathy for Joanie, the woman in the coma. I felt little sympathy for her husband, Matt either. I think we're meant to like Scottie and to find her endearing, but I just found her irritating. I much preferred her sister, Alex. <br/><br/>My favourite character was Sid – Alex's not-quite-boyfriend who was the one redeeming character in the book. There are enjoyable parts to the book and I didn't hate it (even though my review might suggest otherwise!), but that's about all I can find to say about it. I find that even though I finished it less than two weeks ago, the storyline is already fading.<br/><br/>I wonder if it'll be a rare case where I like the film more than the book*?! <br/><br/>*It was!