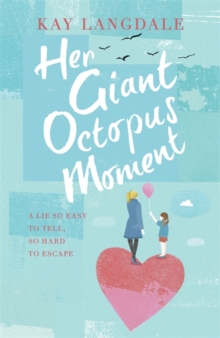 Her Giant Octopus Moment
Paperback
Description
When a surrogate mother pretends the pregnancy has miscarried, and bears a daughter - to whom does the child belong? To her runaway birth mother, or her deceived father and his wife?Scout, born as a result of a surrogacy arrangement, is kept by her biological mother, Joanie, who has deliberately deceived both the clinic and Scout's intended parents by claiming to have had a miscarriage. When this deception comes to light ten years later, a compelling moral dilemma unfolds as Joanie makes her situation worse in the eyes of the law and social services by going on the run.Scout is a resourceful, anxious, perceptive child.
She craves normality in the face of her mother's restlessness and unaccountability. She is loyal to her mother, and loves her deeply, despite being aware of her inconsistencies.Will the Family Court make the right decision for this vulnerable and determined little girl?
Information
Format: Paperback
Pages: 320 pages
Publisher: Hodder & Stoughton General Division
Publication Date: 01/05/2012
ISBN: 9781444728255
Other Formats
Hardback from £15.79
EPUB from £4.99
Free Home Delivery
on all orders
Pick up orders
from local bookshops
Reviews
Showing 1 - 2 of 2 reviews.
Review by nicx27
16/06/2015
Scout Simpson is 11 years old and lives with her mother, Joanie (formerly Joan) in the house that used to be her grandmother's before she died. She loves school and order and this is the first time her and her mother have stayed in one place for any length of time. But Joanie has a secret: Scout was conceived as part of a surrogacy arrangement and she was supposed to give her up to the Beechams when she was born. Instead, Joanie faked a miscarriage and became a mother.When somebody who worked at the surrogacy clinic spots Joanie and Scout and puts two and two together and most definitely gets four, Joanie takes Scout and goes on the run. This is where the book begins and we follow the mother and daughter as they try to stay under the radar and escape capture. There are some wonderful characters in this book. Scout is definitely the star of the show. She's a wonderful creation, so clever and with such a good head on her shoulders, but suffering from what is described in the book as benign neglect. Joanie loves Scout but is really only capable of thinking of her own needs first. I also loved Mr Mohammed and Mr Groves, people Scout befriends when her and her mother are first on the run, and who help her with her 'own-learning'. In a way, I also couldn't help but like Joanie a bit. She's fickle, feckless and flaky, but that's just her character, and nobody could say Scout wasn't pretty well-rounded, although not leaving a life that was benefitting her.This book was a brilliant read and I enjoyed it very much. It presents the reader with a moral dilemma, some great characterisations, excellent writing and an entertaining and fulfilling story.
Review by foolplustime
16/06/2015
I picked this book up because I thought I'd get a nice easy read, something a bit naff, perfect for my current mood.Instead I got a really good book with really strong characterisation and, consequently, a healthy dose of feminist rage directed at publishers' marketing departments. That said, there was something a little bit lacking for me. It's the kind of book which leads you along with it, rather than the kind of book which makes you wonder what's going to happen. I also felt a little short-changed by the lack of legal detail - I'm left questioning whether that would be the actual procedure but as I don't know anything about it, I'm probably wrong. I am asking questions, which is a good thing. It was good and I liked it, but I wasn't terribly compelled to read it though and some of the minor characters, while strongly written, felt a little cliched. So I'm going to give it 3.5 stars, and tell you to ignore that stupid cover.