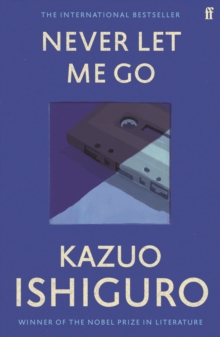 Never Let Me Go
Paperback
Description
The top ten bestseller from the Nobel Prize-winning author of The Remains of the DayShortlisted for the Man Booker PrizeIn one of the most acclaimed novels of recent years, Kazuo Ishiguro imagines the lives of a group of students growing up in a darkly skewed version of contemporary England.
Narrated by Kathy, now thirty-one, Never Let Me Go dramatises her attempts to come to terms with her childhood at the seemingly idyllic Hailsham School and with the fate that has always awaited her and her closest friends in the wider world.
A story of love, friendship and memory, Never Let Me Go is charged throughout with a sense of the fragility of life.
Information
Format: Paperback
Pages: 304 pages
Publisher: Faber & Faber
Publication Date: 25/02/2010
Category: Religious & spiritual fiction
ISBN: 9780571258093
Other Formats
EPUB from £6.39
Paperback from £7.69
Free Home Delivery
on all orders
Pick up orders
from local bookshops
Reviews
Showing 1 - 5 of 8 reviews.
Previous | Next
Review by wyeknow
16/06/2015
The author fails to explore the central question of the essential humanity of the cloned children. Their creations in art and literature, the best of which were taken for display in "The Gallery" by Madame, seemed to be a de facto argument by Ishiguro that Kathy C and her fellow students were fully human. Yet he leaves the questions of morality arising from society's use of the student's bodies as disposable parts factories solely to the reader. This disappointed me, for as the book progressed, I had hoped for a more in-depth exploration of what constitutes true humanity. Every living organism has survival as it's most basic drive, and that had somehow been surpressed in these cloned children. Unlike other animals raised for human consumption, they were fully aware of the future that awaited them, yet did nothing. They never considered an attempt to escape what they knew awaited them. Is that, in itself, proof that the morality of harvesting their organs is no more questionable than killing cattle for their meat?With no exploration of the many issues raised by the basic premise of the novel, it became for me a rather nonotonous observation of the prattlings of self-absorbed teenagers. A very disappointing book.
Review by crazybatcow
16/06/2015
The 'stories' about the main character's childhood/youth/young adulthood have a very authentic feel to them. The story focuses on mundane events which ended up being significant to the main character, but were presented as they had been experienced: as mundane.The children came across as children: ie they bullied, they had temper tantrums, they had cliques. And this consistency persisted throughout the story, though they never really 'matured' beyond young adulthood. I guess the underlying point of the story is dreadful, but who really cares? It's supposed to be a dystopia but the only view of the world we get is from the eyes of a (brainwashed?) girl. The characters are all dry and immature and because they didn't care about their situation, I'm not sure how I was supposed to?It's chick lit pretending to be dystopic fiction.
Review by joshberg
16/06/2015
I came into Never Let Me Go with high expectations, and perhaps for that reason was let down a little. It's certainly readable, provocative and appropriately creepy (it presents a future in which cloned children are raised to donate their organs when they become adults), but I felt it would have worked better as a tight novella than a nearly 300-page novel. I wanted to buy into the world of the book, but practical questions about the plot kept nagging at me. Most obviously, what exactly keeps our highly intelligent protagonists from learning about the history of their kind for so long? Still, Ishiguro's conceit here hits the right existential questions, and his prose is eerily, fittingly as light as air.
Review by GillyG
16/06/2015
Was asked to read this book by a friend and purchased it very reluctantly. However, I am finding it curiously addictive. Beautifully written with a strange feeling of menace and sadness. Will find out as I proceed if I am justified in feeling this. Menace maybe too strong a word.
Review by litaddictedbrit
16/06/2015
The novel is told from the perspective of Kathy, who is a 'Carer'. Facing an end to her time in this role, Kathy reminisces about her life and her experiences and ponders her immediate future. The tone of Kathy's voice is perfect and refreshingly honest. She has made mistakes and handled situations badly and may even have some regrets. One thing that can be annoying are characters who respond to every put-down with a perfectly timed sarcastic barb or every romantic advance with just the right gesture/statement. Kathy is nothing like that and it made the book so much more enjoyable and, ultimately, powerful.Pace is another aspect that Ishiguro has managed to judge perfectly. The story doesn't move quickly but that is to its credit. This novel has a fascinating debate at its core and without the time dedicated to character development and the subtleties that can be incorporated as a result. Readers can watch the characters grow from young children to adults in such detail and with such consistent accuracy that I found myself rememberingAt Hailsham, though, something always feels not quite right. The children are well cared for and educated, with a particular focus on developing their creativity. They are encouraged to grow and create, but absolutely not to be ambitious. It's this kind of hint at a more sinister undertone that drive you on.Overall: This is absolutely worth a read and I have lost count of the people I have recommended it to so that I can talk to them about it. The writing has some flaws but the plot and moral/scientific twists that are thrown make everything worth while. It's hard to describe how much this book will wrench your heart without ruining it - so just take my word for it and read it!