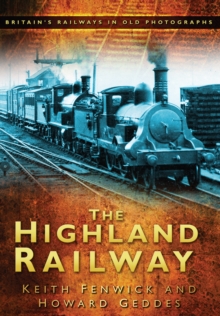 The Highland Railway : Britain's Railways in Old Photographs
Paperback / softback
Description
The Highland Railway has a special place in the eyes of many who have an interest in railways.
Whether it is the romantic scenery, the long lines running through sparsely populated country or the characteristics of its locomotives that draws people is hard to say.
The railway was a lifeline to the country during the twentieth century, and nowadays provides one of the most popular tourist lines in Scotland.
Through the selection of over 200 archive photographs and their captions, this book depicts the rich scenery and history of the Highland Railway which stretched from Perth to Inverness and then further north to Wick and west to Kyle of Lochalsh.
It shows how the train services met the needs of scattered communities in all weathers throughout the year; how the annual influx of tourists in the summer months was handled; and how the lines survived several attempts to close them by continually adapting their role.
This book will be a treat for anyone who remembers the golden age of the railway and for anyone keen to capture the essence of those bygone days.
Also by Keith Fenwick