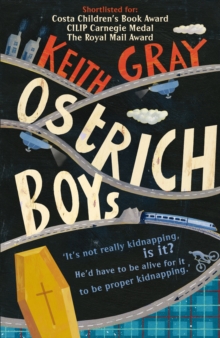 Description
'It's not really kidnapping, is it? He'd have to be alive for it to be proper kidnapping.' Kenny, Sim and Blake are about to embark on a remarkable journey of friendship.
Stealing the urn containing the ashes of their best friend Ross, they set out from Cleethorpes on the east coast to travel the 261 miles to the tiny hamlet of Ross in Dumfries and Galloway.
After a depressing and dispiriting funeral they feel taking Ross to Ross will be a fitting memorial for a 15 year-old boy who changed all their lives through his friendship.
Little do they realise just how much Ross can still affect life for them even though he's now dead.
Drawing on personal experience Keith Gray has written an extraordinary novel about friendship, loss and suicide, and about the good things that may be waiting just out of sight around the corner ...
Information
Format: Paperback
Pages: 368 pages
Publisher: Random House Children's Publishers UK
Publication Date: 03/07/2008
Category: Adventure
ISBN: 9780099456575
Other Formats
EPUB from £2.99
PDF from £10.44
Free Home Delivery
on all orders
Pick up orders
from local bookshops
Reviews
Showing 1 - 5 of 5 reviews.
Review by brokenangelkisses
16/06/2015
'It's not really kidnapping, is it? He'd have to be alive for it to be proper kidnapping.'The cover of 'Ostrich Boys' encourages readers to anticipate a slightly surreal and humorous journey. This is certainly what Gray delivers, but he also produces something much more nuanced and ultimately meaningful than simply an unusual outing.The basic plotKenny, Sim and Blake feel that their friend Ross' funeral was a sea of hypocrisy and the opposite of a fitting tribute to him. In a flash of inspiration, they decide to take Ross' ashes to Ross, a barely-village in Scotland. Nothing is allowed to be an obstacle: not the distance to Ross from Cleethorpes (261 miles); not the fact that Ross' grieving sister is watching the urn; nor the growing tensions between the boys themselves. The fact that this seemingly impulsive, almost jolly trip is centred on the ashes of a dead friend is the first hint towards the underlying pathos in the story. Gradually, despite the humour, you are drawn into a more complex and subtle evaluation of friendships, loyalty and responsibility. By the end, although there are many humorous aspects still present, a much darker story has been laced together under the apparent froth.Opening/styleThe story opens on the three remaining friends hiding in their history teacher's garden. It doesn't take many pages to realise that Sim is out to avenge those he holds responsible for making Ross' last days on earth miserable. Kenny and Blake are reluctant but Sim's anger and determination are implacable as he almost drags the other two in his wake. The opening made me quite uncomfortable as I began to wonder what kinds of characters these were, and who they might hurt, but it soon becomes clear that they are mixed up young boys rather than dangerous teens, and I found myself hoping they would be able to find some solace.Gray presents the action in a very physical way. As they shuffle awkwardly in front of this house, Blake finds that 'the problem was Kenny, who kept squirming, shoving bits of me and Sim out into the glare of the streetlights.' I enjoyed this kind of style which meant that the action was easy to follow, understand and imagine without a great deal of effort. Dialogue is also convincing in its simplicity, helping to create a believable set of characters and, again, creating an easy to understand and follow plot.The only elements of Gray's style that I personally did not appreciate were some occasional awkward expositions from Blake, the first person narrator, such as when he explains about his weight. To me, a few small sections like this came across as awkward and contrived and took me out of the flow of the story, but this didn't happen very often. Usually, Gray has a very deft touch, even when speaking as Blake. Without melodrama, Blake's response to Ross' 'accident' is perfectly encapsulated.'At the funeral the vicar had called it an 'accident'. But somehow the word wasn't enough. It wasn't big enough, powerful enough – didn't mean enough. He hadn't spilled a cup of tea, he hadn't tripped over his own feet. He'd had his life smashed out of him. It felt like there should be a whole new word invented just to describe it.'Characters/atmosphereThe boys are well drawn, each developing a distinct personality. Sim is angry and impatient; Kenny insecure and nervy; Blake introspective and a planner. As the storyline develops, the cracks in their relationship begin to emerge and their journey becomes increasingly difficult to fulfil. The distractions along the route seemed naturally slotted into the story, and the characters reacted to events in a way that was appropriate to their nature. Sometimes, the mood is elegiac, sometimes hopeful and sometimes it positively crackles with anger.I didn't enjoy the story as much as I might have done because I did feel that I had no interest in the other characters the boys met along the route. Instead, I wanted to find out about what was happening to those people left at home, worrying about the boys and the ashes. Interestingly, what felt to me like irritating diversions is described by Blake at the end as central to the message of the novel. I could see this once I reached the end, but obviously it didn't prevent me from being rather frustrated in the middle section of the story!Summary and final thoughtsInitially the boys are adamant that they knew Ross better than anyone else and they are not simply proud of their friendship, but startling dismissive of anyone else's claims to Ross. They are horrified by the suggestion that Ross' death might not have been an accident and are convinced that this proves they are the only people who really knew Ross at all. Gradually, a more complex picture emerges in which it seems that guilt may be a key factor in their trip. Are they simply hiding their heads in the sand?The most interesting character for me was Blake, who hides his most recent role in Ross' life for most of the novel. I felt that he should have been more affected by his own involvement, but this could simply have been part of the novel's overall theme: boys do not share, boys do not talk, boys do not really look out for each other. Sim and Kenny are clearly affected, although they deny this as far as possible, but I expected something more from Blake as our storyteller. However, I think that if he had experienced a crisis of conscience it would have ruined the light flow of the story, and not really added anything to our understanding.I didn't enjoy this novel as much as I'd hoped, but that is quite possibly because I am not a young boy! It is consistently entertaining, albeit in quite a mild way, and successfully explores the mesh of relationships in teenagers' lives. The central message is clear by the end of the story but was so subtly integrated that I never felt I was being preached at.Finally, it is worth mentioning the controversial age banding. The book was labelled a 'teen' read by the publishers, but the author has objected strenuously and this will apparently not appear on subsequent editions. I feel that although there are some serious topics involved – primarily death, suicide and bullying – they are handled with such a light touch that it is would potentially be a suitable read for pre-teens too. So, unusually for me, I would disagree with the advice given that it is 'unsuitable for younger readers'.
Review by adrianburke
16/06/2015
Didn't do it for me. Though I did read it in a desultory manner in Bragazzi's.
Review by Mumineurope
16/06/2015
Taking dead Ross to Ross by Blake, Kenny and Sam - teen discovery novel. Excellent
Review by presto
16/06/2015
Kenny, Sim, Blake and Ross are best friends, fifteen year old boys they live in Cleethorpes, or at least three of them do now, for Ross has just been killed in an accident. Disgusted with the lack of any genuine input at Ross' funeral and the hypocrisy shown by those who by all rights should not even have been there, they think on what they can do to put matters right. After wreaking havoc locally taking revenge on those who they consider deserve it, they ponder what Ross would really have wanted. Recalling that Ross always wanted to go to Ross, Dumfries and Galloway (simply for reasons of the name), they decide that that's what they will do, take him there - but first they must secure his ashes from his family.Blake, the somewhat overweight member of the group, narrates events as they steal away Ross' ashes and make their escape from Cleethorpes. We follow them on their incident filled quest, where the clumsiness of one causes a detour of route, and subsequent difficulties in reaching their ultimate destination. Along they way think about Ross, they ponder their friendships, and worry about the consequences they must face on returning home; the increasingly difficult journey testing the friendship of the three boys to the limits.Ostrich Boys is an appealing and touching story, Keith Gray has created four very different, likeable boys bound by their loyalties to each other. Blake's narrative is honest, full of insight and peppered with touches of humour, making for an entertaining yet moving read.
Review by lindap69
16/06/2015
Blake, Kenny and Sim steal the urn with their friend Ross and take it on the trip to Scotland that Ross had wanted to take. A page-turner with humor, adventure, mishaps and some thinking about what really may have happened when Ross died. Great adventure British style; shortlisted for several awards.