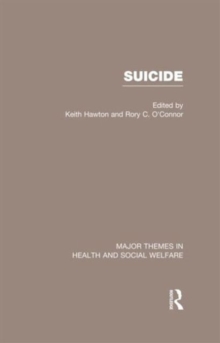 Description
Suicide is increasingly recognized as a major global issue of public health, with far-reaching social, economic, and emotional consequences.
The World Health Organization estimates that around 800,000 people die each year by suicide, with suicide attempts perhaps up to twenty times more frequent than the completed act.
Moreover, in the past thirty years global suicide rates have increased by a dizzying 60 per cent. (For example, in Japan-after Russia, the developed world's leading suicide nation-more than 33,000 people committed suicide in 2007.)Some general facts are now widely known.
For instance: suicide is mainly a (young) male act; mental disorders (such as depression and schizophrenia) are strongly associated with the majority of suicide cases; and suicide rates tend to increase during times of economic downturn, and decrease when individuals within society are well integrated-which probably explains why suicide rates tend to decline during wars.
Also, certain groups of people (e.g. alcoholics, the bereaved, prisoners, and migrants) are recognized to be at particular risk of suicide. While it is possible to make such generalizations, many urgent questions, of course, remain unanswered.
Consequently, practical and scholarly research better to understand the complex interaction of psychological, genetic, sociological, and environmental factors that may lead to suicide flourishes as never before, not least in the hope of instigating effective suicide-prevention strategies and initiatives.
However, much of the literature remains inaccessible or is highly specialized and compartmentalized, so that it is often difficult to obtain an informed overview.
To enable users to make sense of the sheer scale of the growth in research output-and the breadth of the field-this new four-volume collection from Routledge's Major Themes in Health and Social Welfare series answers the need for a comprehensive reference work offering wide-ranging and multidisciplinary perspectives on suicide and suicidal behaviour. Edited by two of the world's leading authorities, the collection brings together canonical and the very best cutting-edge research.
Suicide will be welcomed by professionals and policy-makers.
It will also be an invaluable reference resource for students and scholars working in the field, as well as users from a wide range of allied disciplines-such as nursing, education, social work, and law-who increasingly require an understanding of the issues this collection explores.
Free Home Delivery
on all orders
Pick up orders
from local bookshops