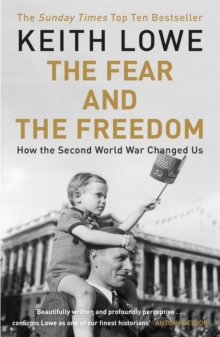 The Fear and the Freedom : Why the Second World War Still Matters
Paperback / softback
Description
The bestselling, prize-winning author explores the impact of the Second World War - for nations, cities and families around the world. How does the experience and memory of the Second World War - one of the most catastrophic events in human history - affect our lives today?
The years after 1945 were a time of both terror and wonder, whose impact still dominates our lives.
Out of the ashes of war came the superpowers and nations of the modern world.
From the new technologies delivered by scientists came the possibility of nuclear war.
Politicians fantasized about overhauled societies, with some arguing for global government, others for independence, leading to the arguments about nationalism, immigration and globalisation that exist today. As well as analyzing the major changes and the myths that emerged, The Fear and the Freedom uses individual stories to examine the philosophical and psychological impact of the war, by showing how leaders and ordinary people coped with the post-war world and turned one of the greatest traumas in history into an opportunity for change.
This is the definitive exploration of the aftermath of WWII - and the impact it still has. 'Richly-documented and wide-ranging . . . I wish schools would use books like this to introduce pupils to the complexity of the problems that face them' - Theodore Zeldin, author of 'The Hidden Pleasures of Life' and 'An Intimate History Of Humanity' 'Provocative, insightful and at times profoundly moving . . . I hope everyone - and our politicians especially - will read it and learn its vitally important lessons' - James Holland 'Insightful and panoramic . . . no myth goes unchallenged. Thoroughly compelling' - Sunday Times 'A masterpiece of historical inquiry: painstakingly researched, cleverly constructed and elegantly written.
In surveying such a diverse panorama, Lowe displays a sensitivity to the human condition - how we got to where we are now - that is as unusual as it is welcome' - Saul David, Daily Telegraph 'The Fear and The Freedom is a deft blend of historical research, moving interviews, and challenging psychological insights.
Lowe writes with elegance and perception. A truly illuminating read' - Jonathan Dimbleby 'Keith Lowe has written an eloquent meditation on the aftermath and the long psychological tentacles of the Second World War.
Beautifully written and profoundly perceptive, The Fear and the Freedom confirms Lowe as one of our finest historians' - Antony Beevor
Information
Format: Paperback / softback
Pages: 576 pages
Publisher: Penguin Books Ltd
Publication Date: 07/06/2018
Category: European history
ISBN: 9780241966488
Free Home Delivery
on all orders
Pick up orders
from local bookshops