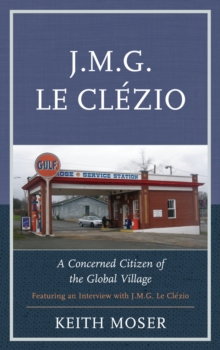 J.M.G. Le Clezio : A Concerned Citizen of the Global Village
Paperback / softback
Description
This monograph represents the first comprehensive study of the multifaceted representations of the complex phenomenon of globalization in the diverse repertoire of the 2008 Nobel Laureate in Literature.
This interdisciplinary investigation explores the initial euphoria related to the ambivalent concept of the `global village' and how this evaporated dream can perhaps be reappropriated to create a better global society for both the human and Cosmic Other through the lens of Le Clezio's fiction.
Chapter one offers a conceptual framework for understanding the Franco-Mauritian author's nuanced ideas concerning globalization.
It also probes the original ambivalence of McLuhan's celebrated notion of a global village in addition to its euphoric reception.
Chapter two explores the current state of the interconnected, interdependent modern world in which many disenfranchised and marginalized individuals are living a recurring nightmare.
Chapter three examines Le Clezio's deconstruction of the simplistic ideology of consumerism that is indicative of contemporary consumer republics.
This section also underscores the intricate systems of hegemonic domination, such as the media, created by the transnational corporations that dominate the global economic landscape to sustain their supremacy.
Chapter four delves into Le Clezio's ecocentric humanism that extends to all other living creatures by debunking Manichean dualities that separate human beings from elemental matter and the rest of the universe.
The final chapter examines recent texts, such as Raga, Ourania, and Histoire du pied et autres fantaisies, which encourage the reader to envision what a more just and egalitarian global village might encompass.
These works dismiss neoliberal fantasies and consumerist ideology that have justified the systematic exploitation of everyone and everything in the name of progress, but they also urge the modern subject to be resilient in the face of tremendous adversity.
Instead of accepting the imposition of a monolithic, socioeconomic model that is riddled with inequality and injustice and which serves the interests of the Happy Few, Le Clezio suggests that the first step is to resist integration into the global village by stoically confronting reality and having the necessary courage to propose another vision which counterpoints McLuhan's misguided one.
Information
Format: Paperback / softback
Pages: 230 pages
Publisher: Lexington Books
Publication Date: 09/07/2014
Category: Literary studies: general
ISBN: 9780739197592
Other Formats
Hardback from £55.65
EPUB from £81.00
Free Home Delivery
on all orders
Pick up orders
from local bookshops